India Strengthens Economic Relations With Africa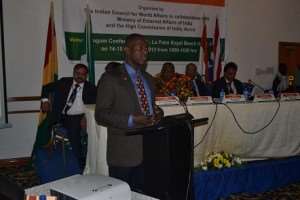 The Indian High Commission in Ghana has hosted its Fourth India- Africa Academic Conference dubbed 'India-West Africa: A Dynamic Relationship and Emerging Trends' in Accra.
The two – day event which aimed at strengthening the economic ties between Africa and India focused on five important areas: India- West Africa: Towards an Enduring Partnership; Enhanced Economic Engagement; India-West Africa Development Partnership: Past Experience & Future Prospects; Multilateral & Regional Engagements and India- Ghana: What the Future Holds.
High level representatives who made presentations during the sub-theme of 'Enhanced Economic Engagement' were: Mukesh Ranjan, Director General of EIC, TATA Steel, West Africa; Mrs. Mawuena Dumor Trebarh, Chief Executive Officer of the Ghana Investment Promotion Center;  Manish Chand, Editor - in – Chief India Writes and Mr. K. Ajit Kumar, Chief General Manager Export - Import Bank of India and Donald Gwira, Head of Corporate Communications and External Affairs of Airtel Ghana.
Mr. Gwira, who made a presentation on behalf of the Managing Director of Airtel Ghana; Mr. Philip Sowah, spoke on the topic 'India-West Africa Trade and Investment: The Way Ahead'.
He took participants through the journey Airtel is undertaking to connect communities across Ghana and beyond by providing relevant and innovative mobile services to all.
In his presentation, Mr. Gwira said Ghana's trade with India has crossed a $1 billion mark for the first time since both countries started trading.
He also outlined some of India's exports to Ghana which includes Telecommunications, Agricultural Machinery, Electricity Equipment, Plastic, Steel and Cement.
He also said Airtel is ranked among the top four mobile service providers globally with over 276 million customers across 20 Countries, 17 of them are in Africa.
Airtel Ghana has also won numerous awards including the Telecoms Company of the Year and Best Customer Care 2012 respectively.
Mr. Gwira further stated that the rising cost of imported fuel, especially diesel and fiber cuts are some of the challenges facing the industry.
The outcome of the deliberations of the conference is expected to provide new and creative ideas to deepen and diversify India's bilateral and regional engagements with West Africa States.
CAPTION: Mr. Gwira at the podium making his presentation