Kenyan ladies hatch plan to snatch Radcliffe record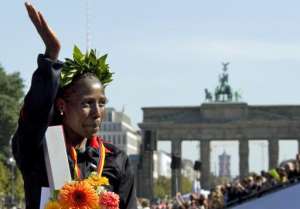 Florence Kiplagat of Kenya celebrates after the 38th Berlin Marathon on September 25, 2011 in Berlin. By Odd Andersen (AFP/File)
Nairobi (AFP) - A group of Kenya's best women distance runners are conspiring to take a shot at the marathon world record set by Britain's Paula Radcliffe more than 10 years ago.
Radcliffe's record of 2hr 15min 25sec, set on the streets of London more than 10 years ago, has become one of athletics' toughest marks, with only a handful of women managing to break even 2:20 since then.
But Kenya's top ladies, tired of seeing their record-breaking male counterparts steal the limelight at international races, say the time has come to bring the title home.
"Why can't we do like our men?" said two-time Berlin marathon champion Florence Kiplagat.
"Though I was privileged to win the women's race on both occasions, the men turned out to be the big heroes," she said of the 2011 and 2013 races, when the men's world records were set by Patrick Makau and then Wilson Kipsang.
"I celebrated for Makau and Kipsang, knowing very well that next time it would be my own turn to become a hero if I broke the current women's record," said the 26-year-old, a former world half marathon champion who has a personal best over the marathon of 2:19:44.
"The time has come for us Kenyan women to make the attempt. It is difficult for one person to manage alone but with teamwork we can succeed. Four of us have all managed to run under 2:20, and if we plan well and run as a team, it can be achievable," she told AFP.
Priscah Jeptoo, the Olympic silver medallist and current London marathon champion, said the Kenyan ladies needed to select a fast-and-flat course -- like Berlin, Chicago or London -- then train specifically and run as a team.
"I believe it can be achievable if we take a joint approach to a particular race like the Berlin or London marathon," said Jeptoo, 29.
She said she would like a race where herself, Mary Keitany (2:18.37), Florence Kiplagat (2:19.44) and Edna Kiplagat (2:19.50) "assist each other and push beyond the world mark."
"There will have to be a collective responsibility for all of us to select a race to compete in, and, in the end allow one person to go for the record," added Jeptoo, underscoring the need for any attempt to have fast women pacesetters on hand in order to be eligible as an world record.
Radcliffe used a Kenyan male pacesetter for her record-breaking run, although that was before the IAAF changed the rules and banned male pacers for world record-eligible runs -- thereby making Radcliffe's record that much more untouchable.
Edna Kiplagat, however, voiced scepticism over whether such a joint attempt will ever get off the drawing board.
"It will be difficult for us all as elite athletes to enter in one race with the aim of breaking the record," said the 34-year-old.
Kenyan runners depend heavily on race wins, course bonuses and World Marathon Majors points for their income -- making the prospect of working together and eventually sacrificing oneself for a rival a difficult and costly proposition.
Still, she said Radcliffe's record is beatable: "It would take one person to get her coach and her family rally behind her in training in order to prepare well," said Kiplagat, saying she planned to have one last shot at the time before she retires.