Disputed Sudans region vows to hold own referendum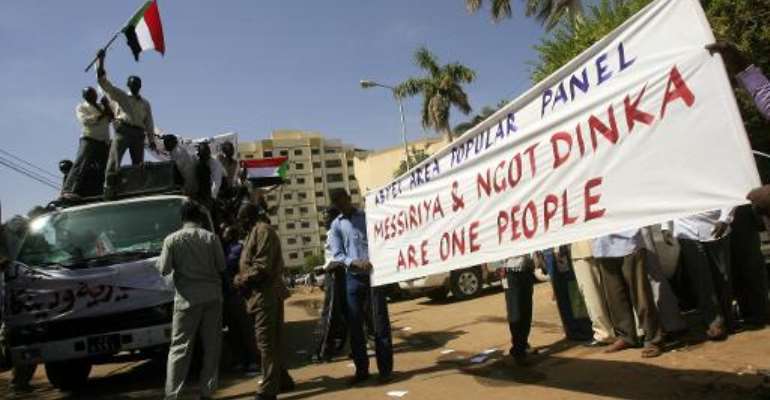 Nairobi (AFP) - Leaders of the flashpoint Abyei region claimed by both Sudan and South Sudan have said they will hold their own referendum to decide their fate, according to documents seen by AFP on Monday.
The United Nations has previously warned that any such unilateral move would risk inflaming tensions in war-ravaged Abyei, a region left in limbo following the divorce of the two Sudans and which could destabilise the uneasy peace between the old foes.
Wedged between Sudan and newly independent South Sudan, plans for a referendum in Abyei -- a volatile, oil-producing region roughly the size of Lebanon -- have been repeatedly stalled.
Patrolled by some 4,000 Ethiopian-led UN peacekeepers, the area is home to the settled Ngok Dinka, closely connected to South Sudan, as well the semi-nomadic Arab Misseriya, who traditionally move back and forth from Sudan grazing their cattle.
Senior leaders of the Ngok Dinka have said they will organise and run their own referendum, after community meetings held on Friday said international and African Union efforts had stalled, and that there was "no light at the end of the tunnel".
The declaration by the Ngok Dinka "People's General Conference" stated their "intent to conduct as a community the Abyei Area Community Referendum in a fair and transparent manner", and called on international observers to monitor the process.
The Ngok Dinka decision noted a "long history of suffering and political marginalisation" they had suffered since being annexed to northern Sudanese regions under British colonial rule in 1905.
No date was set for the proposed referendum.
Bashir to visit South Tuesday
The move is likely to be fiercely opposed by Misseriya leaders and Khartoum. There has been no official backing from South Sudan's government for the declaration.
It comes ahead of a visit by Sudanese President Omar al-Bashir to South Sudan due Tuesday, with the mounting tensions over Abyei expected to dominate talks.
However, the Ngok Dinka noted that previous summits between the leaders "did not yield any result".
UN Secretary General Ban Ki-moon warned last month that "local communities may take matters into their own hands, including by unilaterally organising a referendum," with the potential for inter-communal violence.
However, the Dinka leaders stressed that they would guarantee the Misseriya "their traditional seasonal grazing rights and passage through Abyei."
An Abyei Referendum High Committee was also set up by the Ngok Dinka on Friday, which includes some of the most senior leaders and tribal chiefs of the community.
It is chaired by Deng Alor, a former foreign minister of a united Sudan and former South Sudanese Minister of Cabinet Affairs who was suspended in June over graft allegations.
Abyei was meant to vote on whether it lies in Sudan or South Sudan in January 2011 -- the same day as Juba voted overwhelmingly to split from the north -- as part of the 2005 peace deal which ended Sudan's two-decades long civil war.
The African Union earlier this year proposed that a referendum be held this month to decide whether the territory belongs to the north or south, but no progress for that vote on the ground has been seen.