Sierra Leone Begin Preparations To Face Ghana At Wafu Cup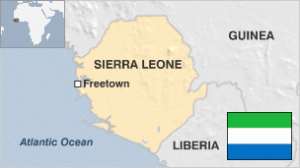 Sierra Leone
The Sierra Leone national home-based team on Monday commenced training in preparation for the forthcoming West Africa Football Union (WAFU B) competition in Ghana.
Sierra Leone is expected to participate in the third edition of the WAFU B Cup of Nations scheduled to run from the 21st November to 28th November 2013.
The tournament is purely for home based players and according to the organisers, it is aimed at giving training opportunity to teams preparing for the Championship of African Nations (CHAN) in South Africa in January 2014.
Coach Johnny Mackinstry commenced training at the Sierra Leone Football Academy ground, Kingtom with 45 players. The number is to be slashed down ahead of the team's departure to Accra.
Names of invited players:
1. BadaraKella Jr. – Diamond Stars
2. Alhaji – "
3. Abdul Kuyateh – "
4. KempsonFofanah – "
5. SahrMorsay – "
6. Crespo – Kamboi Eagles
7. Barrie – "
8. Idrissa Sesay – Mighty Blackpool
9. John Caulker – "
10. Ibrahim Tommy – "
11. Mohamed Mansaray – "
12. David Kamara(Rooney) – "
13. Abdulai Conteh (Arata) – "
14. Osman Kamara – East End Lions
15. UnisaKamara – "
16. AlieKamara – "
17. SerayJah – "
18. Mohamed Kanu – "
19. James Bangura – Freetown City Council
20. AlimamyBundu – FC Kallon
21. GibrillaFofanah – "
22. Mohamed Bangura – "
23. SalifuSamura – "
24. Abdul Bobson Sesay – "
25. Nathaniel Tiayo V – Ports Authority
26. Tapia Forna – "
27. Ballack – "
28. YeamiDunia – FC Johansen
29. Sorie Barrie – "
30. Kwame Quee – "
31. Abdul Bangura – "
32. George Davies – "
33. Ibrahim Kamara – "
34. Alyakeh Alpha – RSLAF
35. Hassan Turay – "
36. David Janneh – "
37. Earnest Fofana – "
38. She Coleman Jr. – "
39. Ibrahim Sillah – "
40. TambaMarah – Gem Stars
41. Donald Wellington – "
42. Ibrahim Tarawallie – Unattached
43. AbdulaiDandagie – Bo Rangers
44. Ibrahim Gbla – Anti-Drugs
45. Kabba Tucker – "