Obinim denies being arrested; But police say he was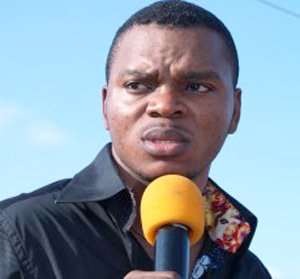 The Leader of the God's Way International Ministry, Bishop Daniel Obinim, has denied the allegation that he was re-arrested by the police last Friday moments after the Accra Circuit Court had discharged him in an assault case.
'Nothing like that happened after the court ruling,' he told the Daily Graphic at Kwabre Kenyasi, near Kumasi, yesterday.
He declined to give further details.
However, Daily Graphic checks at the Adabraka Police Station indicated that Bishop Obinim had actually been arrested last Friday.
The police source said the Bishop was granted bail to appear before a higher court in Accra by the end of the week.
Bishop Obinim had earlier delivered a four-hour sermon at the headquarters of the church at Kwabre Kenyasi, in the course of which he mentioned the allegation.
He told the congregation that the story was a clear attempt by his detractors to adopt every means to dent his hard-won reputation in the Ministry of God.
He advised the church members not to get worried over negative reports about him, saying that as a man of God he would never do anything that would disgrace not only him but also God and the church.
The Bishop wondered how he could have led the church at Kenyasi in an all-night prayer session last Friday if he had really been arrested in Accra last Friday.
Attempts will fail
He stated that some people were out to craft various strategies with the view to running down his ministry, explaining that with God on his side, all the moves would come to naught.
A Daily Guide report on Saturday October 19, 2013 said Bishop Obinim had been rearrested in Accra last Friday after the court, presided over by Audrey-Korcuvie Tay, had discharged him and two of his associate pastors in a case in which they were alleged to have assaulted some journalists of Accra-based Hot FM in the station's studio about two years ago.
According to the report, Bishop Obinim was sent to the Adabraka Police Station following his rearrest.
Nolle prosequi
The court, according to the newspaper, had discharged Bishop Obinim and Kingsley Baah and Kofi Akwettey, who were with the Bishop in the dock.
A nolle prosequi filed by the Attorney-General to discontinue the case, according to the report, resulted in the court's decision to strike it out.
The Bishop and his associate pastors were in the dock on five counts of conspiracy to commit crime, unlawful entry, causing damage to private property and assault.
In addition, the Bishop faced two counts of the use of offensive weapon and causing unlawful harm.
All the accused persons pleaded not guilty to the charges and were on a GH¢50,000 bail with two sureties.
By Kwame Asare Boadu/Daily Graphic/Ghana