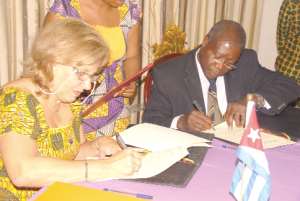 Ghana and Cuba yesterday signed a bilateral agreement to strengthen existing relations between them. The Deputy Minister of Foreign Affairs and Regional Integration, Mr Kwesi Quartey, signed for Ghana, while the Cuban Deputy Minister of  Foreign Affairs, Ms Ana Teresita Gonzales Fraga, initialled for Cuba.
Briefing the media after the short ceremony, Mr Quartey explained that the pact was 'a reciprocal agreement for renewal of official diplomatic waivers'.
He praised the long-standing relations between Ghana and Cuba, especially in the areas of health, education and agriculture.
He said Ghana would continue to support Cuba in its quest to ensure the lifting of the over 50-year embargo placed on it by the United States of America and the release of the five Cubans arrested by the American government.
 
Ms Fraga
For her part, Ms Fraga commended Ghana for its support and assistance to her country in all spheres.
'Cuba is part of Africa. We have African blood in our being and we will continue to support Africa,' she added.
In 1985, Ghana and Cuba signed their first barter agreement, followed by new trade protocols in 1987 and 1988.
Ghana has been a beneficiary of Cuban support in the form of the provision of medical brigades who work in Ghanaian hospitals and coaches who continue to train Ghanaian boxers and athletes.
A joint commission for co-operation between the two countries meets biennially in the alternate venues of Accra and Havana.
Cuba is helping to create a Faculty of Medical Sciences in Ghana's new University for Development Studies in Tamale.
Daily Graphic/Ghana