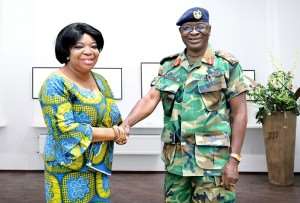 The National Insurance Commission and the Ghana National Fire Service are to deepen collaboration in enforcing compliance with the compulsory fire insurance policy on private and commercial properties in the country.
The collaboration between the two institutions was disclosed, when the Chief   Fire Officer, Brigadier General John Bosco Guyiri, paid a courtesy call on the Commissioner of Insurance, Ms Lydia Lariba Bawa, at her office recently.
Ms Bawa expressed appreciation to the Ghana National Fire Service for assistance in the work of the Task Force, which is presently checking on both private and commercial properties in Accra to comply with the provisions of the insurance law on compulsory fire. The exercise will soon be extended to the regional capitals.
The Insurance Act 2006, Act 724 requires that all private commercial buildings and private commercial buildings under construction are insured with an insurer against the hazards of collapse, fire, earthquake, storm and flood, and an insurance policy issued for it.
A certificate of insurance with security features will be issued as evidence of the insurance, and must be displayed or produced for inspection by the relevant authorities.
A certificate, red in colour, is issued for completed buildings, whilst a blue colour is issued for commercial buildings under construction.
A private commercial building, under the law, includes educational and medical premises, hospital facilities, shops and premises, or offices for the transaction of all forms of businesses.