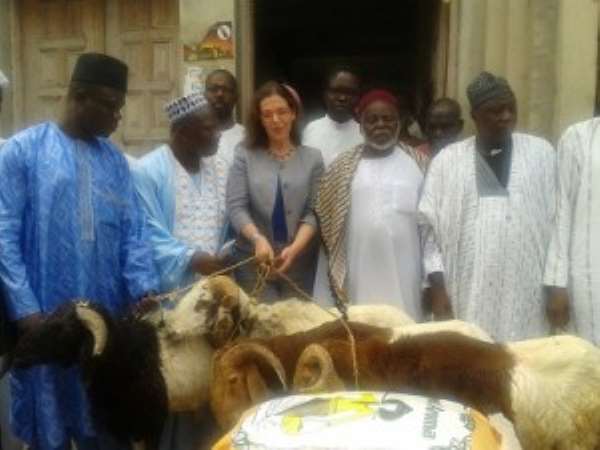 The Israeli mission in Ghana, led by Ambassador Sharon Bar-li, has carried on the tradition of gifting the Muslim community of Ghana with 4 sacks of rice and 4 rams (Signifying the Four Great Caliphs of Islam) towards this year's Eid-ul-Adha festival at a short ceremony at the Nima Central Mosque in Accra .
Making this gesture on behalf of the Israeli people, Ambassador Bar-li noted the similarity between the two religions, Islam and Judaism, their shared traditions and values.
She wished the Ghanaian Muslim community a happy and prosperous Eid, as well as extended her well-wishes to the fortunate ones who would be traveling to fulfill their Hajj decree.
On his part, The Head of Public and International Relations of the Office of the National Chief Imam, Ahmed Nii Nortey, receiving the items, thanked the Ambassador for the presentation.
He said the Muslim community really appreciated the kind gesture, and would seek a credible partnership and better relationships between them.
Mr. Nortey expressed the hope that the presentation would not be the last, but the beginning of a strong relationship between them.