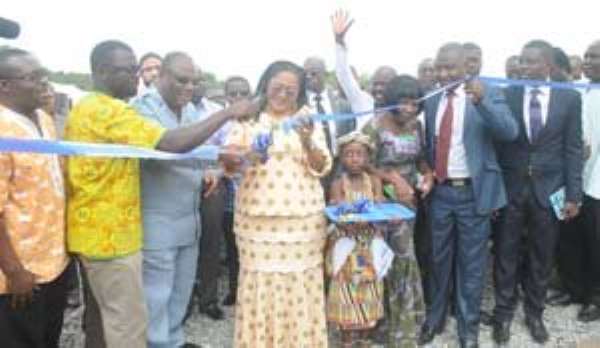 Lordina Mahama being assisted by Archbishop Duncan Williams to cut tape to commission the school
The First Lady of Ghana, Lordina Mahama, has acknowledged that achieving universal primary education is a key prerequisite for eradicating poverty.
According to her, education is becoming an increas­ingly im­portant determinant of living standards under the present dispensation.
Mrs Mahama was speaking at the commissioning of a 6-unit classroom school building at Yahoma in the Ga West District of the Greater Accra, constructed by  an NGO, Compassion for Action of the Christian Action Faith Ministry under the leadership of Archbishop Nicholas Duncan-Williams.
She highlighted on education as one of the main driving forces of poverty eradication.
'Education has been regarded in all societies and throughout human history, both as an end in itself, and as a means for the individual and society to grow,' she added
Prior to the project, the school had been operating in a structure used for poultry farming for more than six years now.
The Christ in You Primary School can now boast of a 6-unit classroom block with library, potable water, decent toilet facility and an ICT laboratory which was furnished with 20 computers donated by Mrs Lordina Mahama.
Compassion for Action is a non-governmental organization established on the 55 th birthday of General Overseer of the Action Chapel International Church, Archbishop Nicholas Duncan Williams.
For his part, Archbishop Duncan-Williams noted that 'when you give to those who cannot give back to you, God rewards you.'