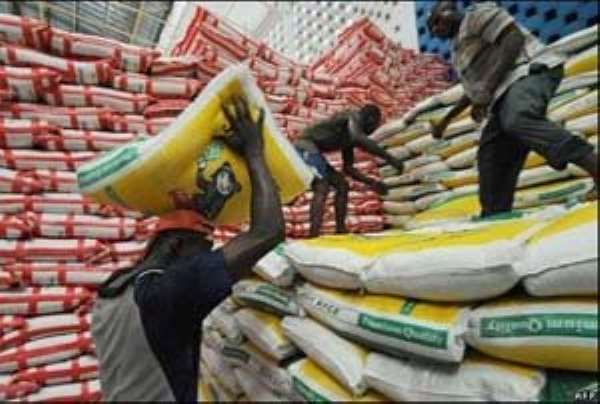 The Ministry of Trade & Industry has noted that it is working on an administrative framework that will help to drastically reduce the numerous unfair trade practices by importers of foreign goods.
The Ministry has directed that the importation of rice into Ghana should be restricted to the Kotoka International Airport (KIA), as well as Tema and Takoradi ports effective November 1, 2013.
This will allow the prosecution and seizure of illegal consignment of rice and other deliveries.
Importers of rice into the country have in recent times resorted to the evasion of import duties and other taxes, under invoicing, infringement of trademarks and smuggling.
An estimated 100,000 metric tonnes (about 4 million bags) of rice is reported to be smuggled into Ghana from Cote d'Ivoire every year.
Rice smuggling has been described as a regular and lucrative activity along Ghana's entire western frontier with Cote d'Ivoire.
And towns such as Kwamesie Krom, Gonokrom and Kofi Badu Krom are reported to be key smuggling depots.
Enchi, Sampa, Nkran-kwanta, Elubo, Debiso and Dadieso are also reported to be notorious routes for the activity.
Between 25 and 35 truckloads of rice cross the afore-mentioned borders on a daily basis, evading import duties and VAT.
Ghana reportedly loses a whopping GH¢69 million every year due to this seemingly harmless activity along the country's borders with Cote d'Ivoire.
By Samuel Boadi