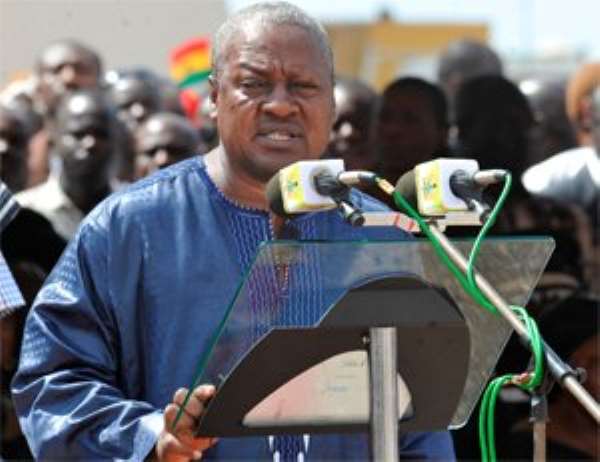 President John Mahama
Ghanaians who followed the terrorist attack that occurred recently at the Westgate Mall in Kenya which claimed over 70 lives have been called upon to be wary of any suspected acts of terrorism in the country.
President John Dramani Mahama said terrorists do not favour any individual or country and so the fact that we have peace in the country does not mean we are immune to terrorism.
He made this clarion call when addressing Muslims who had gathered at the Independence Square to pray in commemoration of this year's Eid-ul Adha, Tuesday.
Over four million Muslims across the country joined others worldwide to celebrate the annual Eid-ul Adha following the completion of the course of Hajj, the holy pilgrimage to Mecca.
Muslims use the occasion of Eid-Ul-Adha to pray to Allah and to glorify His name for His grace and favours.
In his address, President Mahama said 'we must all condemn acts of terrorism… let's not take things for granted. No country or person in this world is free of the scourge of terrorism. We thank God Islam and Christianity has lived in peace in our country for a very long time. We thank God for the peaceful co-existence we have among the various religions in our country. I also thank the various religious leaders. I have never seen so much cooperation among the religious leaders like the one we have in our country. But let us not let down our guard. Let us be vigilant and observant."
He admonished that Ghanaians should watch out for people who might behave in a way that is unusual or suspicious or might pose a threat to the country and report them to the necessary authorities for investigations.
He also wished all Muslims a happy Eid-Ul Adha and also congratulated the National Chief Imam, Sheikh Nuhu Sharubutu for his immense contribution to the peace the country is currently enjoying.
Source: Peacefmonline