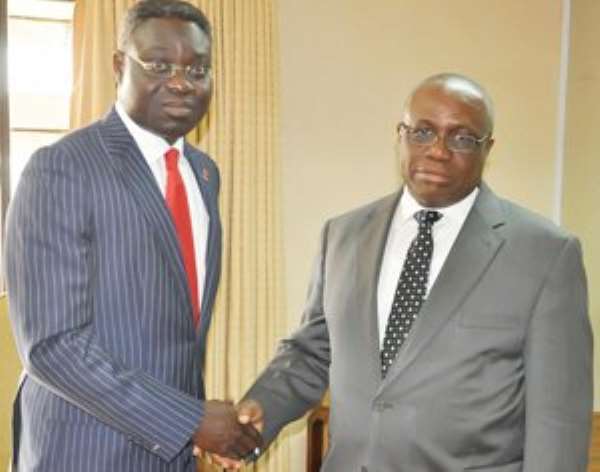 Dr Wampah in a handshake with Philip Oduoza
Henry Kofi Wampah, Governor of the Bank of Ghana (BoG), has praised UBA Ghana for instituting a robust risk management system which has led to zero infraction of regulatory provisions. 
Dr. Wampah said this while receiving the Group Managing Director, UBA Plc, Phillips Oduoza in his office in Accra.
He commended the pivotal role played by UBA in deepening financial inclusion and providing funds to critical sectors of the Ghanaian economy.
The Governor called on UBA to organise seminars and workshop on risk management for indigenous financial institutions in the country to help build a strong risk management culture in Ghanaian financial institutions.
He also called on UBA to support government's policy on import substitution aimed at growing the economy by increasing the volume of exports through encouraging the production of locally made goods.
 
While commending the Central Bank for recognizing UBA's robust risk management policies, Phillips Oduoza, the Group Managing Director of UBA Plc said, 'UBA, being a global bank and the only African bank operating in United States, a geography noted for its strict control system, means that it has to institute a best in class risk management practices across its pan-African banking operations.'
Oduoza emphasized the commitment of UBA to the development of Africa.
'As an African institution, we understand the dimensions and characteristics of the continent's financial landscape. It is our conviction that for the continent to grow, its indigenous financial institutions, like ours, with necessary wherewithal, should champion it. This is what we are doing in 18 African countries where we operate,' Oduoza said. He informed the Governor that UBA's operation in Ghana remains its flagship on the continent largely due to 'the social economic and political stability the country offers to investors.
'We are most encouraged by the stable economic policies offered by Bank of Ghana. Our Bank has reaped immensely from the stability and we hope other countries on the continent will take a cue from Ghana.'
The UBA Group remains a highly diversified financial services provider with operations in 19 African countries, New York, London and Paris.
A business desk report