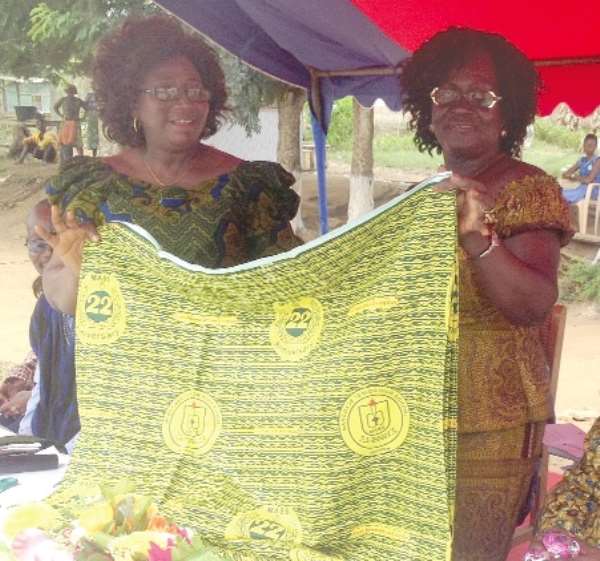 The Mangoase Senior High School (SHS) in the Akuapem North District of the Eastern Region has unveiled its new official school cloth for its 22nd anniversary and maiden speech and prize-giving day.
The rich greenish-yellow material is embossed with the school's crest and 22nd anniversary/first speech and prize-giving day as well as the year it was established.
To portray the beauty of the cloth, a selected number of students and staff put on sewn dresses to exhibit its rich outlook to the admiration of students, staff and management.
The unveiling of the cloth was done by the Eastern Regional Director of Education, Ms Adriana Kandilige, a member of the board of governors; its board chairman, Mr Ransford Tetteh, and other board members last weekend.
Addressing a gathering of students, teachers and board members of the school, Ms Kandilige stated that the ability of the school to have its own cloth was 'the beginning of good things to come'.
'For this reason, teachers must endeavour to offer their best while students should also put in their maximum efforts to excel academically', she stated.
Mr Tetteh informed the school that a university in the country had agreed to offer scholarships to two students of the Mangoase SHS who qualified for university education.
'To take advantage of this opportunity, your priority as a student is to study hard to make it', he stated.
Explaining the background colours of the cloth, the headmaster of the school, Mr S. Nyarko Agyiri, stated that the green colour portrayed the lush vegetation surrounding the Mangoase township, once a commercial hub in the country and a major cocoa growing area.
'The yellow colour tells of the wealth and prosperity we wish for the school'.
'Every student, staff, board member, guests, officials of the Ghana Education Service will wear our rich cloth, come November 30, 2013, the day of the maiden speech and prize-giving day', Mr Agyiri stated.
By Nana Konadu Agyeman/Daily Graphic/Ghanav