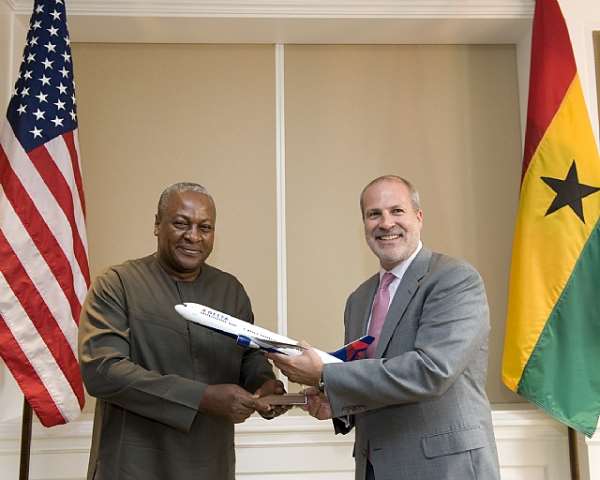 ACCRA and ATLANTA, October 3, 2013 -Delta Air Lines (NYSE: DAL) hosted his Excellency President Mahama of Ghana at its headquarters in Atlanta, United States. President Mahama met with Perry Cantarutti, Delta's Senior Vice President of Europe, Middle East and Africa, and other members of Delta's senior management team. The visit included a tour of Delta's operational facilities, as well as a presentation ceremony in which President Mahama received a model aircraft from the airline's management.
'We are honored to welcome his Excellency President Mahama to our headquarters, providing us with an opportunity to thank the Ghanaian Government and the people of Ghana for their continued support of Delta,' said Perry Cantarutti. 'We are committed to the Ghanaian market and continue to invest in our service with onboard and facility improvements such as the roll-out of our fully flat-bed product for our business customers and upgraded facilities at New York's JFK airport.'
Delta launched service to Ghana in 2006 and since that date has made a series of significant investments on the ground and in the air, including new departure gates at Kotoka International, the launch of a signature Protocol by Delta service for BusinessElite passengers, revised menu and drink choices onboard as well as an intern programme for young business students that is now in its third year.
Delta operates a Boeing 767-300ER aircraft between Accra and New York-JFK, and the fully flat-bed seats in BusinessElite will be available for business customers later this month. The aircraft will also feature the refurbished economy cabin with individual entertainment screens, USB power at each seat and larger overhead storage.
Delta now operates service to five African cities in five countries, having grown from 22 weekly departures to and from Africa in December 2006 to more than 40 planned for winter 2013. Through the hubs in Atlanta and New York-JFK, Delta offers an unsurpassed network of hundreds of convenient onward connections to destinations throughout the United States, the Caribbean, Latin America and Canada.

President Of Ghana At Delta Airlines Atlanta
Editor's Note:
About Delta
Delta Air Lines serves more than 160 million customers each year. Delta was named by Fortune magazine as the most admired airline worldwide in its 2013 World's Most Admired Companies airline industry list, topping the list for the second time in three years.
With an industry-leading global network, Delta and the Delta Connection carriers offer service to 312 destinations in 56 countries on six continents. Headquartered in Atlanta, Delta employs nearly 80,000 employees worldwide and operates a mainline fleet of more than 700 aircraft.
The airline is a founding member of the SkyTeam global alliance and participates in the industry's leading trans-Atlantic joint venture with Air France-KLM and Alitalia. Including its worldwide alliance partners, Delta offers customers more than 15,000 daily flights, with hubs in Amsterdam, Atlanta, Cincinnati, Detroit, Minneapolis-St. Paul, New York-LaGuardia, New York-JFK, Paris-Charles de Gaulle, Salt Lake City and Tokyo-Narita.
Delta is investing more than $3 billion in airport facilities and global products, services and technology to enhance the customer experience in the air and on the ground. Additional information is available on delta.com, Twitter @Delta, Google.com/+Delta and Facebook.com/delta.