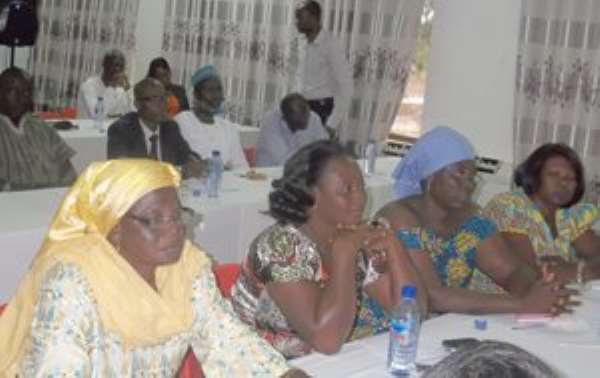 Some of the participants
Maternal mortality has not declined consistently in the Northern Region and the progress towards MDG 5 is sluggish, according to Dr Solomon K Gumanga, an Obstetrician and Gynaecologist of the Tamale Teaching Hospital.
Maternal Mortality Rate (MMR), he disclosed,  had reduced from 740 per 100,000 live births in 1990 to 503 per 100,000 live births in 2005, and current estimates of Ghana's  MMR is 350/100,000 live births in 2008, a reduction of 42 percent from the 1990's figures.
He however noted that this could not be said about the Northern Region which had its lowest maternal mortality ratio in 2010, 126.4 per 100,000 live births and its worst maternal mortality in 2012, 213.5 per 100,000 live births in the past seven years.
Maternal mortality ratio dropped from 842 per 100,000 live births in 2008 to its lowest 493 per 100,000 live births in 2010, a fall of 41.4 percent, but rose from 695 and 689 per 100,000 in 2011 and 2012 respectively.
Speaking during a round table discussion organized by the Tamale office of Centre for Democratic Development (CDD) under the theme: 'Maternal Mortality in Ghana, the Case of Northern Region and the attainment of Millennium Development Goal 5,' he stated that the region risked being left behind.
Dr Gumanga attributed the contributing factors to the high maternal deaths to the inappropriate initial diagnosis and treatment at lower level health facilities, poor initial management of some cases before referral to higher level facilities, defaulted scheduled antenatal clinic visits after booking and home delivery and substandard antenatal clinic management in some health facilities.
He mentioned the rest as poor management of labour in some health facilities, the use of dangerous substances to terminate unwanted pregnancies, use of harmful substances by women during pregnancy and in labour, lack of emergency preparedness in health facilities and the lack of equipment and space for monitoring very ill patients, among others.
Indirect maternal deaths  he emphasized were due to anaemia, viral hepatitis  and its complications, HIV/AIDS, malaria, cardiovascular disease, sickle cell disease, meningitis, which he disclosed contributed to about 33 percent nationally in 2010 and 28.8 percent  at Tamale Teaching Hospital alone.
He added that complications in the Northern Region were largely due to delay before first reporting to a health facility or delays that occur within the health delivery system between the peripheral health facilities and the Tamale Teaching Hospital or other hospital receiving referrals from the lower levels.
He proposed for health education on safe abortion services in the local language in the media as well as the arrest of people who provide unsafe abortion services as a way of curtailing the disturbing MMR figures.
Maternal deaths as a problem at both the national and local levels, he noted, underscored the need for various stakeholders to remove social, cultural and economic factors that caused women not to seek health services where they were available through education.
 From Stephen Zoure, Tamale