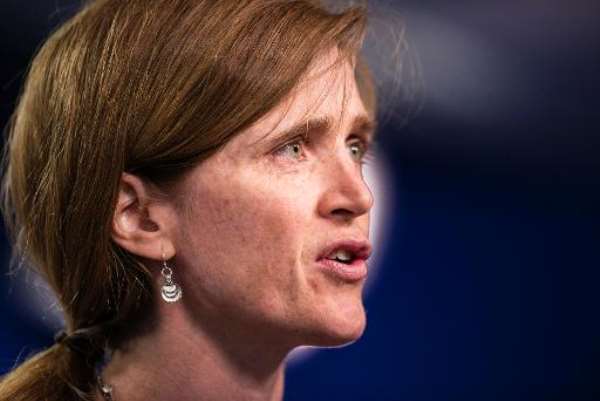 US Permanent Representative to the United Nations Ambassador Samantha Power on September 6, 2013 in Washington, DC. By Brendan Smialowski (AFP/File)
Kigali (AFP) - A UN Security Council delegation urged Rwanda Monday to help put an end to the myriad of armed rebel groups operating in the east of the Democratic Republic of Congo.
The diplomatic mission to the country came days after Rwanda was slapped with US sanctions for allegedly backing ethnic-Tutsi Congolese rebels who recruit child soldiers.
"It is going to be the people and the country of the region who determine whether or not there is peace," said US ambassador to the UN, Samantha Power, after meeting with Rwandan President Paul Kagame.
"The armed groups need to be eliminated, and every country in the region needs to use whatever leverage it has."
The United Nations accuses Rwanda of backing the M23 rebels in neighbouring eastern DR Congo, a charge the country has adamantly denied.
The M23 rebel group was founded by former Tutsi rebels who were incorporated into the Congolese army under a 2009 peace deal but who turned their guns on their former comrades in 2012.
On Thursday, Washington said it was invoking the 2008 Child Soldiers Protection Act to end US financial and military assistance to Rwanda.
Power said Kagame had reiterated his public commitment to peace efforts as well as talks currently underway in Uganda, the next stop on the diplomats' regional mission.
But she said "we have seen that movie before" -- where positive rhetoric and diplomacy have failed to bring any lasting peace to the chronically-unstable region.
Kagame's government, also dominated by Tutsis, is accused of backing M23 rebels as part of a proxy war against Hutu rebels in the DRC and to seek influence in the country's mineral-rich eastern Kivu region.
Kigali also accuses Congolese troops, who are backed by a special United Nations force with a beefed-up mandate to fight the rebels, of failing to tackle the DR Congo-based Democratic Forces for the Liberation of Rwanda (FDLR).
The FDLR includes remnants of Hutu militia who carried out the 1994 genocide, in which close to a million Tutsis were killed.
Power, however, offered some reassurance to Kagame, saying the FDLR was not being let off the hook.
"Right now they are dealing with the problem of M23 because M23 has been shelling civilians," she said of the UN force's recent operations.
"But they made clear they have every intention also to deal with" the FDLR, she added.