Something Must Be Wrong With Us!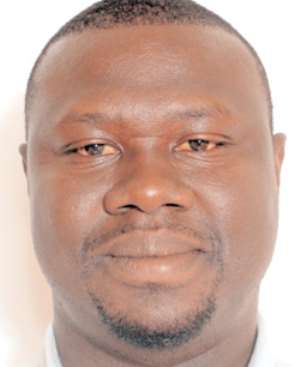 Agya Kwaku Ogboro
'I do not know what constitutes intelligence. I leave that to our so-called scholars. But I do know that in terms of organizing society for the benefit of the people living in it, we blacks have not shown any intelligence in that direction at all. I'm so ashamed of this that I sometimes feel I ought to have belonged to another race.'
Those are not my words, Abusuapanin. They are the words of Idang Alibi, a columnist with the Nigerian newspaper Daily Trust. I love reading Alibi's pieces because he does not mince words. He is an avowed apostle of truth and would say it even if Heavens would fall. The above quote amplifies that fact, doesn't it?
The quote is an extract from his piece titled, 'I agree with Dr. Watson.' And what did Dr. James Watson say that he agreed with? Dr. Watson was explicit when he said in 2007 that black people were less intelligent than their white counterparts.
Indeed, I was one of the many persons from the black race who did not take kindly to the comment. My gosh, how we tongue-lashed him! Some of us called him a racist, while others described him as a conceited bigot. But after a sober reflection, I wonder if we were right in our violent criticism of both Dr. Watson's persona and theory.
I do not agree with the theory that blacks are less intelligent than their white counterparts. Perhaps, what Dr. Watson meant was that blacks use their intelligence a lot less than their white counterparts. If indeed that was what he implied, then we were all wrong in bashing him because the evidence is there for all to see.
Idang Alibi used his native Nigeria in his discussion, but I would use Dr. Kwame Okro's own GYEEDALAND. I must, however, confess that the disease and symptoms of both countries are the same.
Our basic school system, known in local parlance as 'syto', is an apology of a system. It is anything but efficient. As such, any native of GYEEDALAND worth his salt does not and would not allow his children to attend 'syto'. Ironically, successive governments shamelessly bask in 'small' successes like capitation and school feeding, while the masses too gleefully swallow all kinds of Kwaku Ananse stories pushed down their throats.
With all the rivers and water bodies at our disposal, we still cannot provide potable water for our people. It is as if Bob Nesta Marley had this country in mind when he said, 'In the abundance of water, the fool is thirsty.'
One can also lampoon the Reggae legend by saying, 'In the abundance of food, the fool is hungry.' Indeed, has this country not failed in taking care of her children, despite having gold, diamond, bauxite, timber, cocoa and oil? Have we not been told that the country has chewed all the meat, leaving only the bone? And even the bone is now being broken for our leaders to savour the marrow. What then are we leaving for our children and generations to come?
In this day and age, we continue to construct open gutters which are soon littered and choked, leading to flooding during heavy downpour. Our roads have virtually become death traps. Electricity supply is very erratic, yet our leaders shamelessly increase tariffs astronomically. With all our resources, we still go to others, cup in hand, begging for alms. We have so much, yet we have achieved so little. Obviously, that is a sign of a people who are not willing to use their Mawu-given intelligence to better their lot.
I'm very concerned that we do not invent things. I'm concerned that almost 60 years after independence a chunk of our population is still living a primordial life. By primordial life I mean some of our compatriots are living as if we are still in the Stone Age. I'm concerned that our societies are not well-organized. I'm concerned that we cannot even feed ourselves, provide shelter, good drinking water or constant electricity for our people. I'm very concerned; others are concerned as well; and you should be concerned too because something must be wrong with us.
Yes, the bearded Old Man above has given intelligence in equal measure to all his children irrespective of skin colour. Others have resolved to use theirs to solve their problems, and they are doing a good job of it. But we, people of black race, have refused to use ours. That is our bane! That is what is wrong with us!
Is it any wonder that even ghosts receive their share of judgment debt? Is it any wonder that the President of GYEEDALAND is refusing to learn from the GYEEDA debacle, and is promising another programme that would create the opportunity for some people to milk the country dry?
During the independence struggle, Dr. Kwame Okro confidently proclaimed that the Blackman was capable of managing his own affairs. With such high levels of incompetence and greed being exhibited by our leaders, I doubt if he would still stand by that claim.
Honestly, I'm pained by the incompetence of our leaders. I'm so ashamed of their greed that I sometimes blaspheme. Out of desperation, I sometimes ask the bearded Old Man above why he made me a native of GYEEDALAND, and by extension not a member of another race. And is that not blasphemy?
I know I'm not alone in this web. All I can ask is for 'Mawu Sogbolita' (Almighty God) to have mercy and forgive our blasphemous mouths. Please say Amen or 'Ameen' to that!
See you next week for another konkonsa, Deo volente!