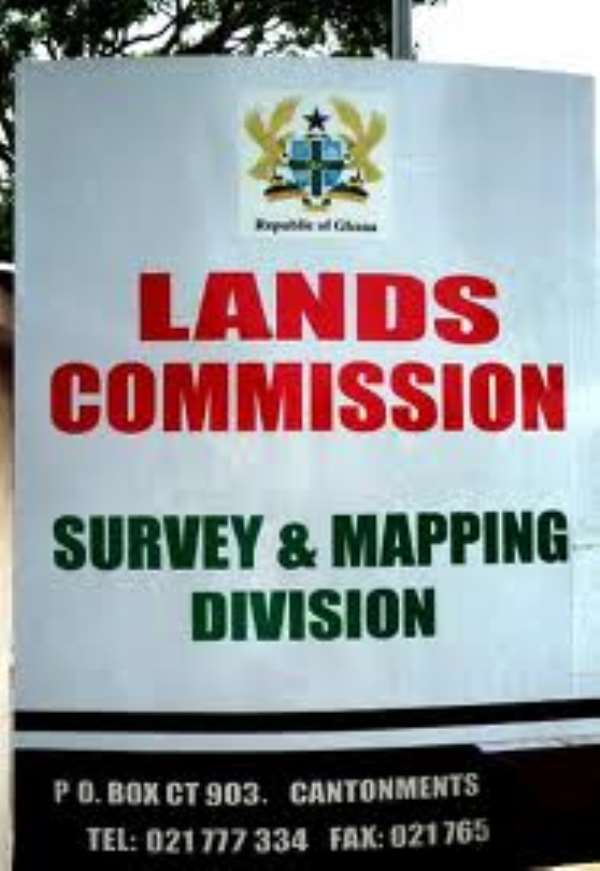 Lands Commission
Accra, Oct.1, GNA - Office of the Administrator of Stool Lands on Tuesday said out of the 14 stool lands compensation payments made to beneficiaries in the Ashanti Region, it only handled four payments.
The remaining 10 stool lands compensation payments were either handled by the Land Commission or the Land Valuation Board, thereby usurping the powers of the Office of the Administrator as the sole authority mandated by the 1992 Constitution to disburse compensation payments on stool lands.
Madam Christine Esi Obobee, Administrator of the Stool Lands, made this known in Accra on Tuesday, when briefing the Judgment Debt Commission on the operations of her Office.
She said apart handling the payment of compensation to Worakese Stool, Kwadaso Stool, Ahinsan Stool and Barekese her outfit only received copied letters from the Lands Commission and Land Valuation on other compensation payments made.
These payments were made to Sasamo, Anwoma, Asokore, Maaban, Nkwantakese, Anyinase, Offinso, Nkonsontuano and Pai Stools.
Madam Obobee said Article 267 Sections (6) of the 1992 Constitution mandated the Office of the Administrator of Stool Lands to disburse all monies accruing from stool lands to the rightful beneficiaries.
'We have a ledger accounts for all the stool lands and one big account for all the stool lands from, which we disburse all compensation payments to beneficiaries,' she said.
Madam Obobee said the Attorney General's Department in a letter on April 10, 2006 gave the right to the Lands Valuation Board to effect compensation payments of Stool Lands in violation of the constitutional rights mandated to the Office of the Administrator of Stool Lands.
She said, because the two organisations had taken over the mandate of the Commission, the 10 per cent share that it was benefiting from stool lands compensation payments to manage its administrative cost was no more coming.
This, she said, had affected the operations of the Commission and 'gradually running it to death'.
Referring to Auditor General Reports, Mr Justice Yaw Appau, Sole Commissioner of Judgment Debt, said compensation payments involved huge money.
He said he did not understand why the constitutional mandated institution such as the Office of the Administrator of Stool Lands should be denied its responsibility.
Mr Anthony K. Kokroko, Legal Officer at the Ghana Police Service also appeared before the Commission in respect of vehicles supplied to the Service by African Automobile Limited (AAL).
He said the Police Service did not have any agreement with the AAL to either supply it with vehicles or carry out maintenance and service work.
Mr Kokroko said the Police Service rather had an agreement with Japan Motors Limited and not AAL.
GNA