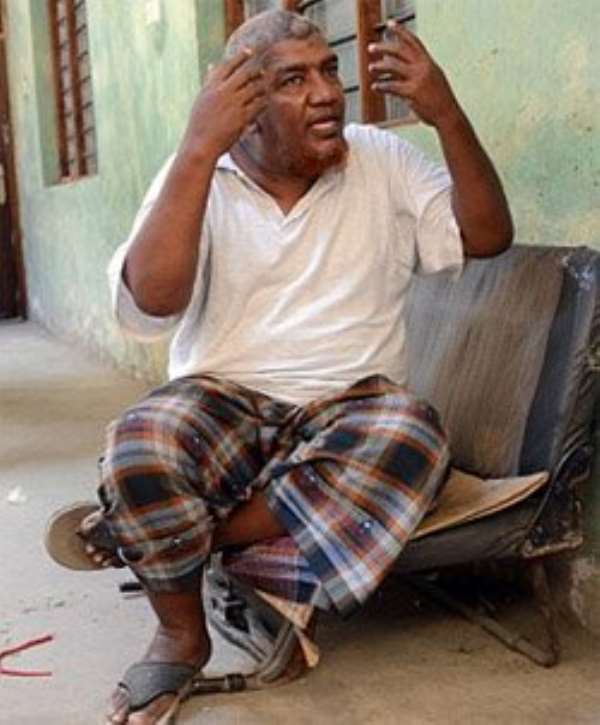 Makaburi, whose real name is Abubaker Shariff Ahmed, at his residence in Majenga,Mombasa
A hate preacher wanted for recruiting killers to the group that massacred civilians at a mall in Nairobi warned yesterday that Britain was the next target.
Abubaker Shariff Ahmed, who is known to his followers by the nickname Makaburi, meaning graveyard, said terrorists are planning to murder innocent Britons on their mission to impose Sharia law across the world.
Speaking exclusively to the Daily Mail, he named David Cameron as a specific target for the Al-Shabaab  terrorist group, which attacked the Westgate Mall in Nairobi, Kenya, last Saturday.
Asked if terror would be brought to Britain, Makaburi said: 'Yes. The British will be targeted personally. That means tourists on the streets will be killed. You will all die.
'The British should be taken out. Your presidents and your cabinets, they are guilty. Obama is a mass murderer. I would give my life to get his.
'Same thing with David Cameron. Yes, they should be killed.'
Makaburi's claims came as Mr Cameron revealed he had ordered security and intelligence chiefs to draw up plans to deal with a terrorist attack on British shopping centres.
The Prime Minister, who chaired meetings of the Cobra crisis committee last week, said he had no intelligence of plans for an 'imminent' attack in Britain.
http://www.dailyguideghana.com/wp-content/uploads/2013/09/Samantha1.jpg
Samantha Lewthwaite
But asked whether he was concerned that British-based Somalis might export terror to the UK, Mr Cameron said: 'There is always a worry of  that and there is a hotbed of terrorism in Somalia that spills over into  other countries.'
Incredibly, Makaburi has not yet been questioned by officials in Kenya over the Westgate attack, despite being accused by the UN of being 'a leading facilitator and recruiter' of young terrorists in the region.
While he is said to have recruited 'White Widow' Samantha Lewthwaite to the group, he insisted yesterday that he does not know where she is or whether she was involved in the latest outrage
Describing Lewthwaite, 29, from Aylesbury, Buckinghamshire, Makaburi said: 'I call her Samantha Fox. She is the fox. We know nothing about her. She does not exist. If it's true then she is a superwoman.'
Lewthwaite, a mother of four, is the widow of London bomber Jermaine Lindsay and is on the run in East Africa.
She is the world's most wanted woman after Interpol issued a worldwide arrest warrant last week.
Yesterday, Makaburi, 50, was in hiding in a slum on the Kenyan island of Mombasa. He is staying on private property, refusing to leave even for prayers in case he would be killed.
Dailymail.co.uk