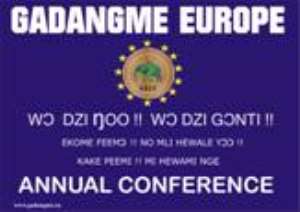 From all across Europe, 'GaDangmebii/li will gather in Rümlang-Zurich, Switzerland, next weekend, Friday 4th October & Saturday 5th October 2013 for the 9th Gadangme Europe Annual Conference. (AGM)
The climax of this year's Conference is the promulgation of the revised Gadangme Constitution, Adoption of the Single Program (SP) and also welcoming the members of the Assembly of Associations (AOA) on Saturday the 5th.
This program will be attracting 'GaDangmebii/li from across the globe including Gadangme International (GDI) and other local Ghanaian Associations based in Switzerland and many more who have expressed the willingness to attend and to support this occasion.
This conference will provide opportunities for 'GaDangmebii/li in Europe to reaffirm their support to developing and strengthening the GDEu and also to set the direction for the coming years for Gadangme Europe.
This conference will also provide the opportunity for 'GaDangmebii/li to get acquainted and to devise ways to tackle many of the challenges facing us as one people.
Please contact our General Secretary [email protected]
Alternatively, the P.R.O, [email protected] for further information on the conference.
Shidaa

GaDangme Europe (GDEu)

Alex Adjei
[email protected]
www.gadangme.eu
Face book: Gadangme Europe
28th September 2013