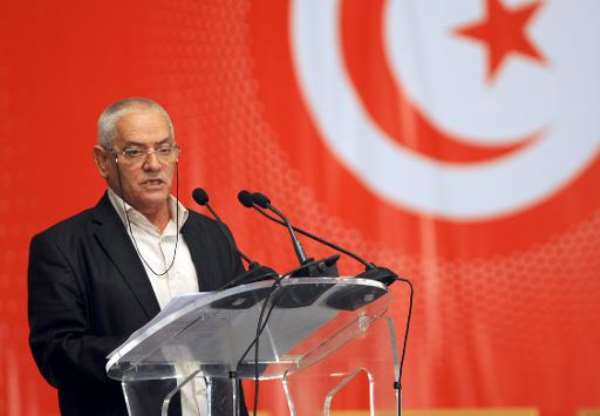 Houcine Abbassi, head of the Tunisian General Labour Union (UGTT), speaks at a conference on May 16, 2013 in Tunis. By Fethi Belaid (AFP/File)
Tunis (AFP) - The brokers of long-awaited talks between Tunisia's ruling Islamists and the opposition said they will make a new attempt to open them on Friday despite doubts over who will attend.
"The national dialogue launch will go ahead at 10:00 am (0900 GMT)," the UGTT trade union confederation, which has been the lead mediator in the protracted political crisis, said just hours before the planned start.
"We will see which parties turn up."
The mainly secular opposition said on Thursday evening that it would not take part until Islamist Prime Minister Ali Larayedh gives a "clear and explicit" undertaking that his government will step down within three weeks of the dialogue's launch.
The timeframe is part of a hard-won roadmap to put Tunisia's political transition back on track negotiated by the mediators between the Islamist-led government and the opposition.
But the roadmap also sets a parallel one-month timeframe for the adoption of a new constitution and electoral laws, and a timetable for fresh elections, which the government is insisting must also be adhered to.
Larayedh gave a new commitment on television late Thursday to the principle of handing over to a government of independents, but again insisted his cabinet's resignation was conditional on the implementation of other parts of the roadmap.
"The government is eager and committed to stand down within the timeframes set by the roadmap but on condition that all its elements are completed in the specified order," the premier said.
The protracted haggling between the two sides has paralysed Tunisian politics since the killing of an opposition member of parliament in July, in an attack blamed on jihadists.
It comes against a backdrop of mounting public anger over the growing death toll from jihadist violence, which saw two offices of the ruling Islamist Ennahda party torched on Thursday as six slain police officers were laid to rest.