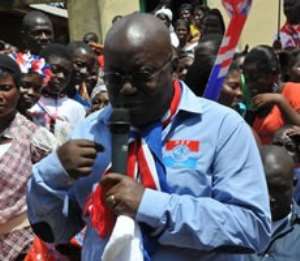 Nana Akufo-Addo
New Patriotic Party (NPP) Member of Parliament (MP) for Efutu, Alexander Afenyo Markin is advocating that the twice defeated presidential candidate of the party be given another chance in 2016.
According to him, Nana Akufo-Addo compared to others vying for the flagbearership position of the party is the "best bet of the NPP for 2016".
Alex Afenyo Markin was commenting on the 'battle' for positions in the NPP prior to its delegates congress next year.
The positions of flagbearer, Chairman and the General Secretary are the most sought after by leading members.
Even though some have declared their intentions, Akufo-Addo, who is on a sabbatical leave from frontline politics after the Supreme Court dismissed an election petition by he [Nana] and two others challenging the 2012 presidential election results, is yet to make his intention known.
Already, there is intense lobbying to get him [Nana]to run for a third time as flagbearer in 2016 after losing the 2008 and 2012 elections respectively.
General Secretary, Kwadwo Owusu Afriyie also known as Sir John and Ashanti Regional Chairman, Frederick Fredua Anto received flak from party members for championing the premature endorsement of Akufo-Addo's candidature.

But speaking on Asempa FM's Ekosii Sen programme Thursday, Afenyo Markin said it will be a big gaffe for the NPP to change Akufo-Addo as leader in 2016.
He said as an already marketed candidate, it will be much easier for the party to win the next general elections with Nana.
The Efutu MP described as exceptional the political maturity Nana exhibited by immediately accepting the Supreme Court verdict on the election petition though he had strong reservations.
"In Ghana's political history, no one has demonstration love for this country like what Nana Akufo-Addo did. So why don't we [NPP] ride on this."
He was convinced that Akufo-Addo as an internationally recognized statesman will deliver a landslide victory for the NPP in 2016.
"All we have to do is to unite and approach 2016 with a slogan of a new vision, a new direction to attract more voters to the NPP".
The NPP MP bemoaned the seeming division in the party which he claimed is largely due to the self-centeredness of some party executives who want to retain their positions, but he cautioned those people to campaign on merit.
He said if the factionalism within the NPP is not resolved, no matter who leads the party in 2016, "we will still be in opposition".