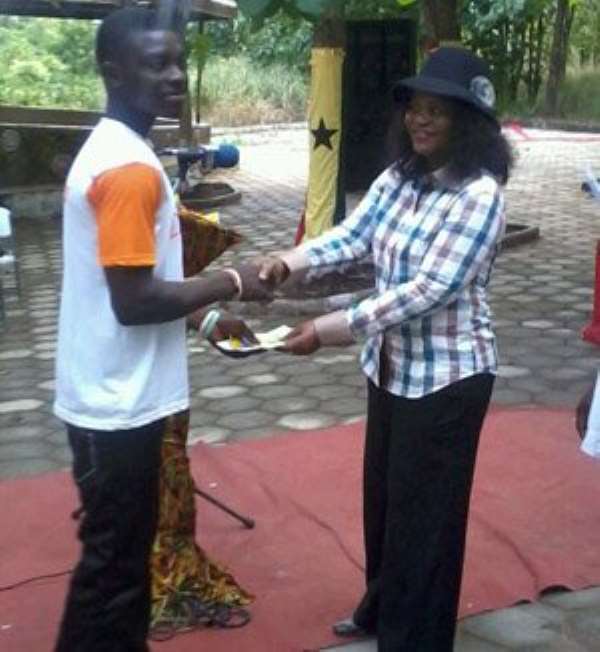 Regional Minister Helen Adwoa Ntoso presenting a prize to one of the bikers
Richard Kilson, a Manager at the facility, said plans are advanced to turn the Boti Falls into a state-of-the-art tourist site.
He said a 3-star 200-room hotel facility would be provided to make the Boti Falls a great tourist destination.
He was speaking at a short ceremony on Saturday, September 21, 2013 to open a refurbished guest house at the site where the first president used to relax when he visited the place.
Mr Kilson disclosed that the architectural design of the edifice was ready, adding the project would be environmentally-friendly.
The guest house, which is now opened to visitors, was built in 1962 by Dr. Kwame Nkrumah.
The first president relaxed and wrote some of his books at the place.
The Yilo-Krobo Municipal Chief Executive (MCE), Andrews Sodah said he was happy with development at the facility.
He noted that there had been long-standing feud between the assembly and some of the indigenes over the Boti land but expressed happiness to see some of them around.
Mr Sodah assured management that the Municipal Assembly would do every thing possible to ensure that the Boti Falls becomes the leading tourist attraction in the region.
The Regional Minister Helen Adwoa Ntoso, in response to a request by management of the facility, called on the District Police Command to beef up security in the area to protect holiday makers who thronged the facility.
She pleaded with telecommunication providers to extend coverage to the Boti township to ensure that tourists and others who access the facility are able to make and receive calls.
Currently, there is no telecommunication network operating at Boti.
The minister and her entourage, after the opening ceremony, also moved down the 250 staircases at the Boti Falls.
A bicycle competition took place on Friday.
The race, which started from the Regional Coordinating Council (RCC) in Koforidua to the
Boti Falls, was sponsored by the RCC. All participants received tokens.
The Regional Minister also received a citation and a token for her enormous contribution to the development of the region.
 From Rocklyn Antonio, Boti