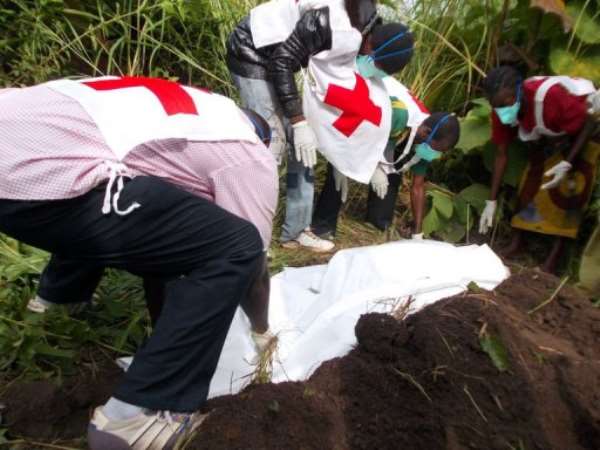 Red Cross volunteers bury bodies on September 15, 2013 in Bossangoa. By Pacome Pabandji (AFP/File)
GENEVA (AFP) - Civilians, including children, are bearing the brunt of a surge in violence in strife-torn Central African Republic, aid agencies warned Friday, describing burned villages, widespread hunger and abuses including murder, rape and torture.
"The deteriorating situation in the Central African Republic and the humanitarian consequences for the population are deeply troubling," the International Committee of the Red Cross said in a statement.
The spike in violence in recent weeks between unidentified armed groups and former Seleka fighters marks the deadliest the country has experienced since March, when a coalition of rebel groups known as Seleka deposed president Francois Bozize, who had ruled since a 2003 coup.
Seleka leader Michel Djotodia officially dissolved the rebel alliance after he was installed as head of state last month, but that has not stemmed the violence.
The UN's children's agency decried the total lawlessness in the country, which has "spelt disaster for children."
"Measles outbreaks are reported almost everywhere in the country (and) at least 60 percent of schools are still closed because of the violence and the absence of teachers," UNICEF spokeswoman Marixie Mercado said.
Recruitment of child soldiers was also on the rise, she said, pointing out that some 3,500 kids were now believed to be linked to armed groups in the country, up from around 2,000 last December.
"It is a country that has now a form of chronic instability," ICRC head of operations Pierre Kraehenbuehl told reporters in Geneva.
In the war-ravaged central city of Bouca, the Red Cross last week found whole neighbourhoods deserted as some 20,000 people fled into the bush, or to hide with relatives or at places of worship.
It remained unclear how many people had been killed across the country in the recent violence, but ICRC said that within one week, in Bouca, "volunteers of the Central African Red Cross Society have collected the mortal remains of 30 people for identification and burial."
The UN refugee agency meanwhile said that four days of heavy clashes earlier this week in and around the northwestern towns of Bossembele and Bossango had forced many people to flee, adding to the nearly 300,000 people who have been displaced within Central Africa and to neighbouring countries since last December.
UNHCR spokesman Adrian Edwards said agency staff on the ground in Bossangoa had heard of "multiple abuses by both sides in the conflict, including murder, rape and torture."
Elsewhere, UNHCR staff also heard of arbitrary arrests, kidnappings and extortion, he told reporters in Geneva, adding that five children who had been hiding in the bush without shelter during the rainy season were said to have died from cold and malaria.
The UN's World Food Programme also warned that the uptick in the conflict was raising the risk of hunger in a country where 135,000 people are already in urgent need of food aid.