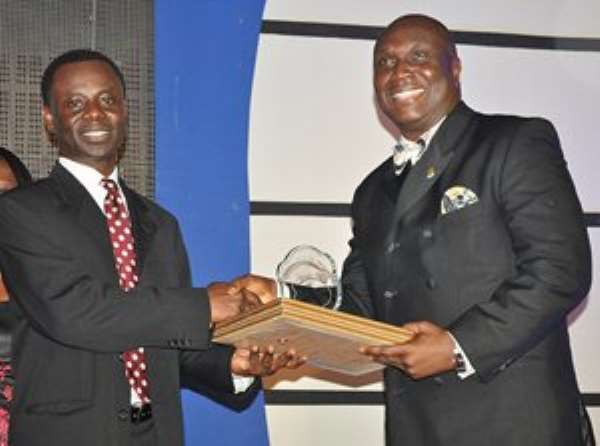 Samuel Sarpong GÇô Chief Transformation Officer of GCB receiving the award from Mr. Clifford Duke Mettle, President of the Chartered The Chartered Institute of Bankers
Ghana Commercial Bank Limited (GCB) has been adjudged the Bank of the Year 2012 by the Chartered Institute of Marketing Ghana (CIMG).
The award is in recognition of expert financial solutions and e-banking products the Bank has introduced over the past two years which have helped improve service to customers and made GCB notable among giants in the banking industry.
Samuel Sarpong, the Chief Transformation Officer of the Bank, who received the award on behalf of the Bank, said the award is a reflection of the major strides made under the transformation exercise the Bank embarked on two years ago.
Since then the automation of the Bank's services and the introduction of a range of e-banking products namely SMS banking, Smart pay, 24-hour Personal Loan, MasterCard and most recently GCB e-alerts and e-statements have positioned GCB positively in the mind of customers.
The transformation has touched GCB's products and services, processes, staff and systems with the key objective of re-positioning GCB as the leading financial institution in Ghana.
Mr. Sarpong explained that GCB's innovations in the banking sector, product introduction, support to communities and overall performance over the past few years and this past year in particular have been noticed by industry watchers.
He said the transformation is on-going to ensure that GCB evolves into a world-class institution to provide excellent service to customers.
He gave the assurance that the Bank would continue to respond to changes in the industry, adding that 'this resilience has culminated in making us the Bank of the Year today.'
He dedicated the award to the Bank's investors, customers and Ghanaians.
The award coincides with the celebration of 60 years of banking excellence in Ghana by GCB, this year.