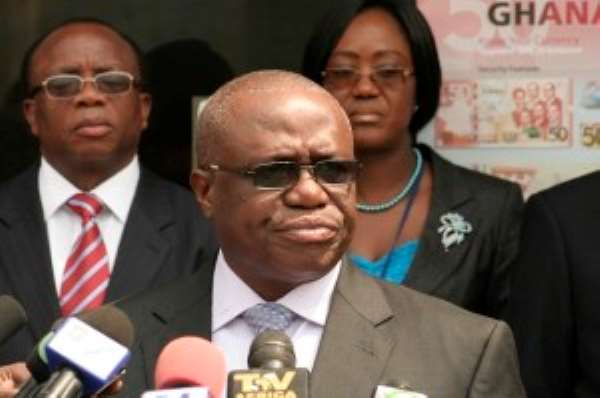 The mystery surrounding the sale of Ghana National Petroleum Company's (GNPC) oil drill ship at $24 million is yet to be broken following announcement by the Ghana (BoG) that it is searching thoroughly for documents on the sale.
 
The Governor of the Bank of Ghana (BoG), Dr Henry Kofi Wampah said: 'We are still looking for the GNPC's missing ship documents'.
 
Dr. Wampah added if they find the documents they would not hesitate to submit they them to the appropriate authority for action.
 
The ruckus surrounding the transaction got murkier Tuesday, when the French bank, Societe Generale, said to have been paid $19.5 million in judgment debt from the sale of the ship, told the Judgment Debt Commission it has no records to show it received the amount.
The Managing Director of Societe Generale Bank-Ghana, Gilbert Hie noted that both their offices in France and Ghana did not have any record on the $19.5 million judgment debt reportedly paid to the company after the sale of the drill ship.
The government of Ghana in 2001 sold the drill ship, Discoverer 511 at $24 million to settle several debts owed by the State owned Oil firm.
But Mr. Hie told the Judgment Debt Commission that the Company only came into existence in 2003, two years after the transaction and, therefore, had no idea about the payment made in 2001.
He hinted that the documents could have been destroyed possibly because the laws of France do not allow documents on commercial transactions to be kept beyond 10 years in an office hence the difficulty in tracing them.
 
Meanwhile, the government says it will provide legal assistance to the Sole Commissioner to enable him uncover the mystery surrounding the sale of Discover 511 drill ship belonging to the Ghana National Petroleum Commission (GNPC).
A Deputy Information Minister, Ibrahim Murtala Muhammed told journalists that the contradictions from former Energy Minister Albert Kan Dapaah and his deputy K.T. Hammond over the transaction raise a lot of concern and suspicion.
He said: "Considering the fact that there have been some contradictions and incoherence" in the statements made by Mr. Kan Dapaah and K.T Hammond, "create more room for suspicion" and "concern".
According to him, the government will do all things possible to see how best the Sole Commissioner can be assisted in unraveling the mystery and the contradictions therein.