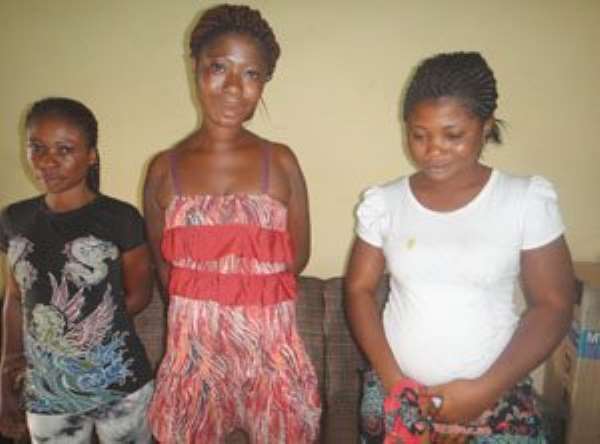 The suspected traders in police custody
The suspects are Adwoa Ohene, 27; Ama Ohenewaa, 26 and Linda Boadu, 20.
A total of GH¢9, 900 suspected to be fake currency notes were found on the suspects upon arrest.
Suspects are currently in the custody of the Nsawam District Police Command, awaiting trial.
Briefing DAILY GUIDE, Superintendent Akwesi Kankam-Boadu, Nsawam District Police Commander said suspects were grabbed on Monday, September 16, 2013 around 2:00pm upon police intelligence.
The three ladies who are residents of Tantra Hill in Accra came to the Nsawam Central Market to trade.
Suspects were seen using the money to buy items and receiving change as well.
Suspecting the money to be fake ones, police immediately grabbed them for questioning.
A search on then revealed an amount of GH¢990 of the fake currency notes were found on the three.
Suspects had in their purses GH¢330 of the GH¢10 notes, GH¢540 of GH¢20 notes, and GH¢425 of the GH¢5 notes.
Upon interrogation, suspects said the money was given to them by a certain gentleman to exchange with the original currency for a fee.
Superintendent Kankam -Boadu urged traders and market women to be alert and expose those using such fake currencies to trade in the markets to the police.
Meanwhile, suspects revealed to the paper that their recruiter urged them to buy items with it for the original currency.
'On the GH¢10 notes, our recruiter said we should only spend GH¢3 from it and the GH¢20 notes, we spent GH¢6, while we spent GH¢2 out of the GH¢50 notes,' they claimed.
 By Linda Tenyah