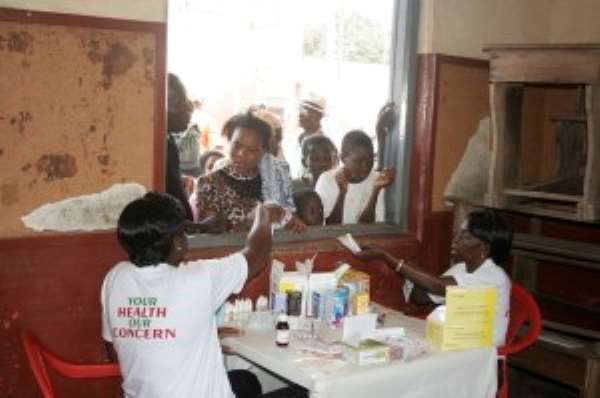 The Accra Brewery (AB) Limited, in collaboration with Graphic Communications Group Limited, as part of their Social Cooperate Responsibility (SCR), have organised a health screening  exercise, free registration of the National Health Insurance Scheme, and dental care to residents of Adabraka, Old Fadama, and its surroundings.
The exercise, which was welcomed by the chiefs and people, screened over 1,000 residents, with medicines administered to them after treatment last week.
The Managing Director of Graphic Communications Group Limited, Mr. Kenneth Ashigbey, indicated that even though they were into business, it was necessary that national development was placed at heart, noting, 'it not only about raising issues, but been part of solution.'
He added that although the companies had taken it upon themselves to provide free health screening every year, it also demanded that the residents take their health seriously.
Mr. Kenneth Ashigbey appealed to Ghanaians to see themselves as one people, driving at one destination. 'We must not see ourselves as enemies, because the enemies we have are disease, illiteracy, and poverty.'
http://thechronicle.com.gh/wp-content/uploads/2013/09/37.jpg
 
 
 
 
 
A patients blood pressure being checked
 
Mr. Gregory Metcalf, ABL Managing Director, said the exercise was an act of giving back to the society in which the companies operate.
According to him, the companies were part of the community so the people's health was their concern.
 Pix by: Eric Owiredu