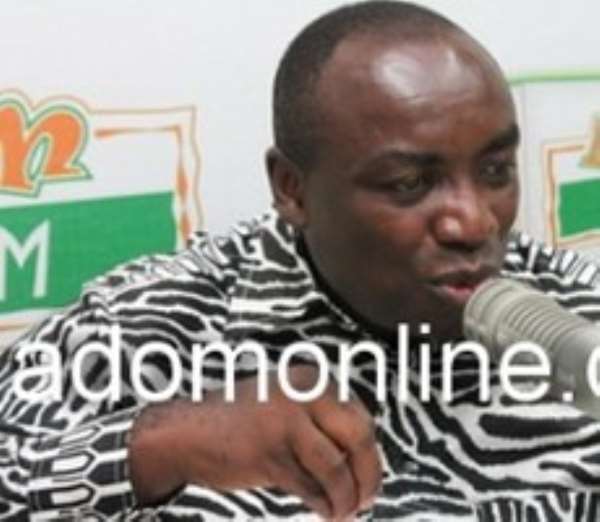 Kwabena Agyepong
A former press secretary Kwabena Agyepong is eyeing the position of NPP General Secretary while former Minister of Health Dr. Richard Anane is rumored to be interested in becoming the party's 2016 presidential candidate.
These are new names emerging as lobbying for some key members to hold positions in the New Patriotic Party appears to be intensifying.
A group calling itself Friends of Kwabena Agyepong is pushing the former presidential spokesman to contest the position of General Secretary, which is currently held by Kwadwo Owusu Afriyie also known as Sir John.
Joseph Otoo, spokesperson for the group, says Kwabena Agyapong is a "strategic" candidate to bring about reforms needed in the party ahead of 2016 general elections.
Following this endorsement, some NPP youth in Wa in the Upper West region are also clamouring for the presidential spokesman to replace Sir John. They have blamed the NPP's inability to win the Election Petition in Supreme Court on the conduct of Mr. Owusu-Afriyie.
Sir John had threatened the judges with death during the course of the hearing.
The group said the conduct and utterances were "poor at best" but unlike the NPP General Secretary, Kwabena Agyepong "thinks through issues before speaking".
Kwabena Agyepong who was not available for comment was Press Secretary to the Office of the President between 2001 and 2006.
Another name that has popped up in the media is former Health Minister Dr. Winfred Richard Anane, who is reported to be interested in contesting the party's flagbearership slot. Dr Anane did not confirm or deny the reports when he spoke on JOYNEWS TV earlier today.
"All that I can say is that Dr. Anane is not new to the NPP...he has been in the trenches for very long since 1978.", he said about himself.
He said he has been working quietly for his party and that "everything has its own time".
Dr Richard Anane was a Health Minister from 2001 to 2003 and a Minister for Transportation from 2003 to 2006 under the Kufuor administration. He is currently the Member of Parliament for Nhyiaeso constituency in the Ashanti Region since 1997.