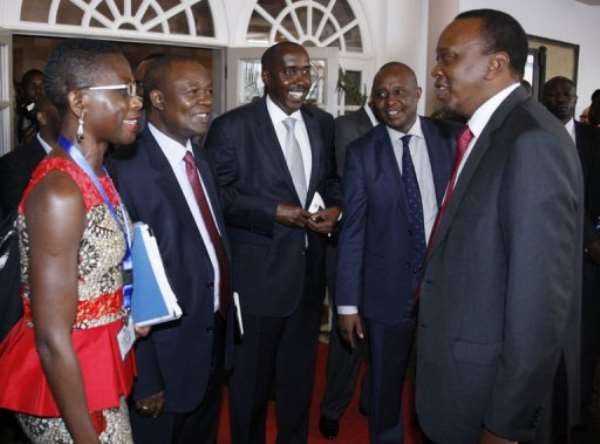 Kenya's President Uhuru Kenyatta (R) on September 17, 2013, in Nairobi. By (KENYA PRESIDENTIAL PRESS SERVICE/AFP)
NAIROBI (AFP) - Kenya's President Uhuru Kenyatta on Tuesday unveiled ambitious plans to transform the country into a regional economic powerhouse, targeting double-digit growth within five years and middle-income status by 2030.
East Africa's largest economy was hit hard by political violence in 2008, when growth was pushed down to a mere 1.5 percent, and then by a regional drought and the repercussions of the global economic downturn. For 2013 the government expects gross domestic product (GDP) growth of 5.6 percent.
"We are not at the point of realising our full economic potential," Kenyatta said at the opening of a two-day conference organised by the International Monetary Fund and the Kenyan government.
Citing a timid reduction in poverty rates from 52 percent in 1997 to 46 percent in 2006, the Kenyan head of state said: "These improvements are neither satisfactory nor compatible with our stated aim to become a middle-income country by 2030.
"To resolve this, we will raise GDP growth rate to double digits within the second Medium Term Plan of Vision 2030.... We aim to accomplish this by 2018," he said.
Kenyatta said he wanted to see the mostly agrarian economy and its burgeoning youth population undergo an "industrial revolution to power our ambition of becoming a middle income country by 2030."
"We want to make Kenya Africa's gateway, a manufacturing and technology hub and a home to millions of entrepreneurs," he said, promising "sound economic management founded on low inflation, a stable exchange rate, relatively competitive interest rates and sustainable debt."
He also trumpeted plans to improve regional transport infrastructure, removing several key trade bottlenecks with a "network of first-rate international trunk roads to link us with our neighbours Tanzania, Uganda, Ethiopia and South Sudan."
"We are also increasing focus on railways and ports," including the planned construction of a rail link between the Kenyan port city of Mombasa to Kigali in Rwanda via Uganda.
The IMF has given a glowing assessment of Kenya's economic prospects, despite underlying concern over the ongoing trial at the International Criminal Court (ICC) in The Hague of Vice President William Ruto and the forthcoming trial of Kenyatta.
The former rivals are both charged with crimes against humanity for their alleged role in masterminding 2007-2008 post-election violence between their respective Kalenjin and Kikuyu communities.
For the moment the two are cooperating with the ICC, but the country could be plunged into a political crisis if either are convicted and jailed, or face international isolation if they drop out of the proceedings and trigger arrest warrants.
"Kenya is one of the countries where Africa's recent progress is evident," said Antoinette Sayeh, director of the IMF's African Department.
"Kenya's economic gains over the past few years are indeed impressive particularly in the context of global weakness and uncertainty," she told the conference, entitled "Ready for Take Off: Kenya's Economic Successes, Prospects and Challenges."
Still, some analysts cautioned that Kenya had a long way to go to overhaul its cramped port facilities, crumbling roads and creaky colonial-era railway.
Charles Robertson, global chief economist at Renaissance Capital and an emerging markets specialist, said he expected Kenya to register an average eight percent growth over the coming decade because of the lack of oil reserves.
"At the moment I don't have any data to support that Kenya is going to be a significant oil producer," he said.
He also voiced caution over Kenyan government plans to raise some $1.5 billion by making sub-Saharan Africa's biggest debut sovereign bond issue, in part to pay off more expensive debt and in part to invest in infrastructure.
"The risk is they borrow too much, that their economy overheats," he said.