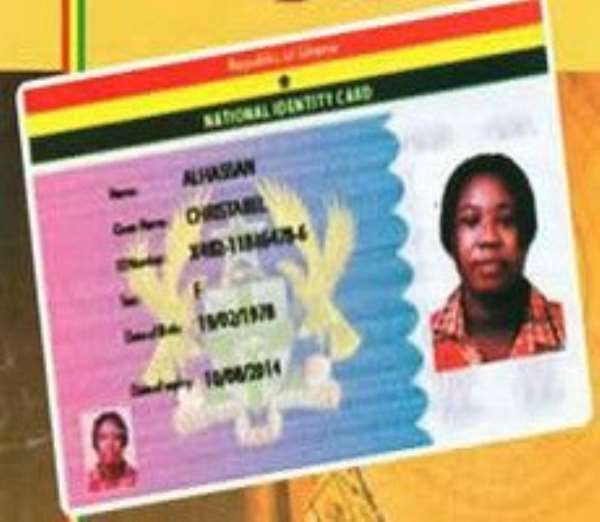 President John Mahama is meeting officials of the National Identification Authority at the Flagstaff House on Tuesday, to try and find a lasting solution to challenges facing the registration exercise.
The process has been bedevilled with challenges including funding.
Deputy Information Minister, Ibrahim Murtala Mohammed says the President is committed to getting the registration process to go on without further hitches.
Briefing the media ahead of the meeting, Mr. Murtala Mohammed said government is concerned that the registration exercise which began in December, 2010, is yet to complete.
Even though the exercise NIA has registered residents in seven out of the 10 regions, it is yet to distribute the Ghana Cards due to lack of funding. The Authority is yet to fully cover the three northern regions with the registration exercise.
Mr. Murtala Mohamammed said government needs the information for "efficient and effective governance system" and would therefore offer the needed support to ensure completion of the exercise.
The NIA was set up in 2003 under the Office of the President with the mandate to issue national ID cards and manage the National Identification System (NIS). This resulted in the passing of the National Identification Authority Act, 2006 (Act 707) to give it the necessary legal premises on which to operate. The National Identity Register Act, 2008 (Act 750) was also passed to give authorisation for collection of personal and biometric data and to ensure the protection of privacy and personal information of enrollees.
The Authority is mandated to establish a national data centre and manage a national database, set up a system to collect, process, store, retrieve and disseminate personal data on the population (Ghanaian citizens - both resident and non-resident, and legally and permanently resident foreign nationals), ensure the accuracy, integrity and security of such data, and to issue and promote the use of national identity cards in Ghana. It is also to make data in its custody available to persons or institutions authorized by law to access the data.
The NIA seeks to facilitate the integration of all public sector/ civil operation, law enforcement, corporate and business applications/systems to the National Identification System, and the provision of general identification services. The setting up of the National Identification System is in response to providing up-to-date data that will facilitate the nation's development agenda.