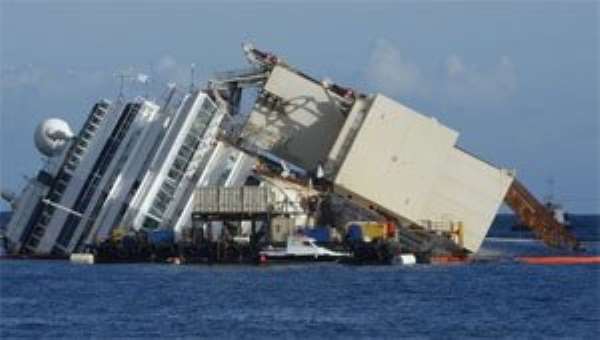 The operation was delayed for three hours because of an overnight storm, but began at 09:00 local time (07:00 GMT).
Righting the cruise ship is expected to take up to 12 hours.
Engineers have never tried to lift such a huge ship so close to land. Thirty-two people died when it hit rocks.
A senior engineering official says the Costa Concordia still has not broken free of the rocks on which she is lying, the BBC's Alan Johnston reports from the scene.
The bodies of two of the dead, a passenger and a crew member, have never been recovered and may be found during the operation.
The Italian Civil Protection Authority said the sea and weather conditions had mostly been right for the attempt.
The storm overnight on Sunday delayed the positioning of a barge carrying a remote control room close to the shipwreck.
From that room, engineers will work using pulleys and counterweights to move the Concordia from the steep underwater incline it is resting on.
Sergio Girotto, an engineer working on the project, told reporters on Monday the operation was going ahead smoothly.
"Everything is going according to plan, we are following the plan to sequence… There is no problem whatsoever."
He added that once the operation had been going for a couple of hours, "we should be able to see something with the naked eye".
The ship capsized off the Tuscan island of Giglio in January 2012.
BBC