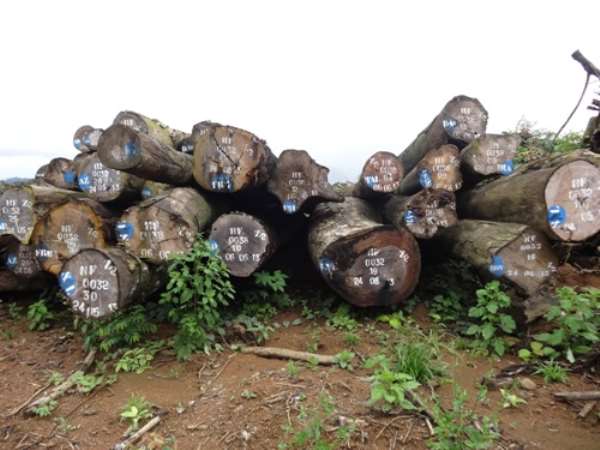 The Divisional Officer of Nguti Subdivision has suspended the activities of Nature Cameroon. The suspension order cites incitement to rebellion and disturbance of public order as some of the reasons.
Nature Cameroon is a local Non-governmental Organization involved in protection and conservation of the environment.
Dominic Ngwesse, the founder of Nature Cameroon said the Divisional Officer for Nguti seems to be angry about their involvement in the recent Village Tour organized by local NGOs to sensitize the population on the adverse effects of an agro-industrial oil palm project.
Herakles Farms and its Cameroon affiliate Sithe Global-Sustainable Oils Cameroon (SG-SOC) have been logging illegally in the South West Region of Cameroon. SG-SOC proposed to clear 73,086 hectares of pristine rain forest in a vulnerable ecological zone to plant oil palm trees.
There has been massive opposition to the project from local NGOs; Centre for Environment and Development (CED), RELUFA, Struggle to Economize the Future Environment, (SEFE) and Nature Cameroon.
International NGOs Greenpeace International, Oakland Institute, WWF, Save Wildlife, the German development foundation GIZ and private individuals have been vocal about the dangerous activities of SG-SOC.
Nassako Bessingi has been arrested, tortured and detained by the police on the orders of the local administration.
Corrupt practices, intimidation and harassment have been used by SG-SOC as their mode of doing business.
After worldwide opposition and pressure against project, Cameroon government suspended the activities of SG-SOC in May 2013. The suspension was lifted by the Minister of Forestry and Wildlife, (MINFOF).
Cameroon government has said it is reviewing the Establishment Convention signed in 2009 between the then Minister of Plan and Regional Development (MINPAT) Louis Paul Motaze and SG-SOC.
This convention was seriously flawed as it reveals a lot of bias and interest and engenders serious economic and social losses for the Cameroon government and the local populations.
Government has since said SG-SOC could only be awarded 20,000 hectares for its oil palm project.
There is abundant evidence that SG-SOC has no experience in the oil palm sector. SG-SOC is alleged to be looking for buyers to sell off the concession. It has recently sold palm seedlings from its Fabe nursery to PAMOL (an oil palm company operating in Ndian Division, South west Cameroon).
Environmentalists believe the oil palm project will seriously threaten the already fragile ecosystems in the region. The land proposed for the concession falls between the Korup National park, the Rumpi Mountains, Bayang-Mbo Wildlife Sanctuary, Bakossi Mountains and the Nta Ali reserve. All these reserves are of High Conservation Value.
SG-SOC have not been available to comment whether they are behind the suspension of the activities of Nature Cameroon.
Editor's Note:
Fon Christopher Achobang
Department of Linguistics
Faculty of Arts
University of Buea
P.O. Box 63 Buea
(Senior Translator),
English-French-English
Expertise; International Business Translation; Literary Translation,
Medical Translation; Legal Translation, Editing; Proofreading; Translation lecturer.
(Senior Reporter, Social Commentator, Human rights activist)
The Cameroons
Tel, (237) 99365954
(237) 33160489