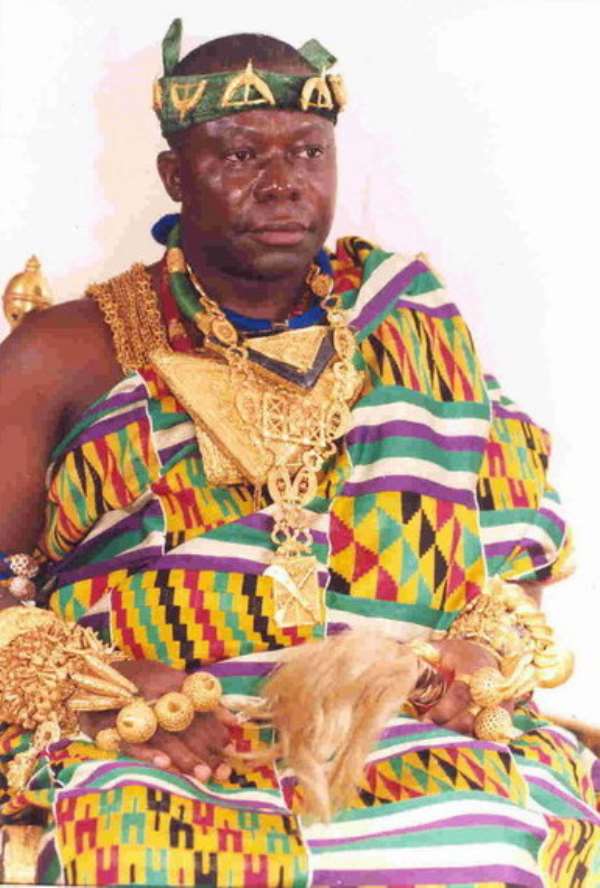 Otumfuo Nana Osei Tutu II
Barely twenty-four hours after Ms. Emma Lawson, the editor of the New/Free Press, was widely reported to have denied any knowledge of a patently defamatory article, sourced to her paper, claiming Otumfuo Osei-Tutu II to have facilitated a payola scam allegedly struck between President Mahama and at least three of the nine Supreme Court judges that heard the Akufo-Addo/New Patriotic Party Presidential Petition, the Managing-Editor of the same newspaper published an article insisting that, indeed, they had no intention of retracting their earlier report accusing the Asantehene of a flagrant violation of the dignity of his station and office (See "Time Is Running Out for Otumfuo, President Mahama to Come Clean" Vibeghana.com 9/15/13).
We need to also observe in passing that President Mahama has vehemently denied that any such payola transaction, involving at least $15 million (US Dollars), changed hands between his alleged imperial go-between and three of the Supreme Court judges in the lead-up to the August 29, 2013 delivery of its widely unpopular decision. The Allegations advanced by Alhaji Suraju Musah Mohammed - about fourteen in all - are far more damning than the one vehemently denied by Ms. Emma Lawson.
Indeed, some of the tabulated allegations are too personal and unsavory to delve into; but the one that we feel needs prompt investigating by the appropriate authorities, whoever and wherever they may be, regards an alleged "205 telephone calls made between the Asantehene and the Rev. Emmanuel Asante, Chairman of the Ghana Peace Council, President John Mahama, and Dr. Kwadwo Afari-Gyan, the Electoral Commissioner" in a one-month period between mid-July and the end of August Supreme Court verdict.
What is interesting here is that Alhaji Suraju Musah Mohammed, the Managing-Editor of the New/Free Press, is not just standing by his allegations, he is also prepared to follow them up with the following purported testimony: "We have transcripts from our reliable sources at the National Communications Authority [NCA] to prove this and we will publish it all in our next edition." Now, the preceding is more than serious; what it poignantly implies is that, somehow, the prominent national figures named by Alhaji Suraju Musah Mohammed flagrantly and/or criminally conspired to usurp the sovereign mandate of the Ghanaian people. We hope the accuser has a team of crackerjack attorneys behind him.
In essence, the Managing-Editor of the New/Free Press is accusing His Royal Majesty, the Asantehene, Otumfuo Osei-Tutu II, of having staged a successful coup-detat geared at imposing the wrongful leadership on the country. If this allegation should turn out to contain any iota of forensic sustainability, the country may very well be headed in the direction of a constitutional crisis of apocalyptic proportions.
For us, though, what is very damning, should it bear evidentiary muster and/or scrutiny, is Alhaji Suraju Musah Mohammed's allegation that in the evening of the very day that the so-called Manhyia Peace Accord was brokered by His Majesty, with the strategic assistance of Rev. Asante, the Peace Council Dean, Otumfuo Osei-Tutu II graced a political fundraiser at Anita Hotel, in Kumasi, for the presidential incumbent.
If this allegation also turns out to have teeth, then the road to Campaign 2016 may well lead to the Kigali of 1994-'95. We invite our readers to avail themselves of Alhaji Suraju Musah Mohammed's Vibeghana.com article, make up their minds and brace up for whatever consequences these allegations may portend.
We also hope that the seemingly courageous accuser will be afforded both personal safety - since ours is a democratic society and culture that guarantees free speech - and his proverbial day in court to either prove his allegations or, failing to do so, face the full disciplinary brunt of the law.
Editor's Note:
*Kwame Okoampa-Ahoofe, Jr., Ph.D.
Department of English
Nassau Community College of SUNY
Garden City, New York
E-mail: [email protected]