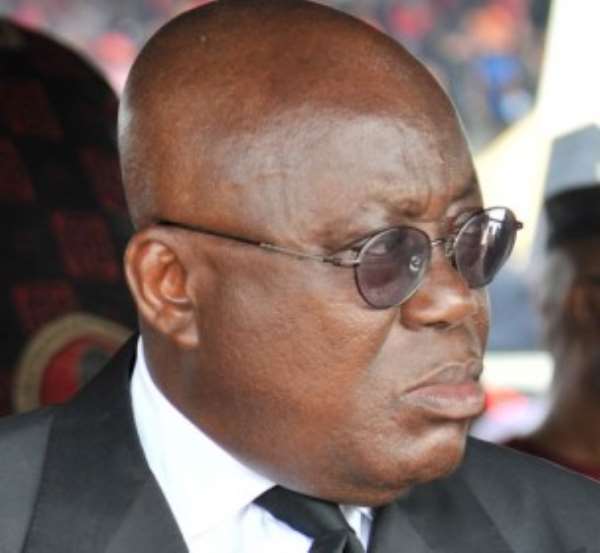 The 2012 Presidential Candidate of the New Patriotic Party, Nana Addo Dankwa Akufo-Addo, has declared that the 2012 election is over.
He has, therefore, challenged the rank and file of his party to look towards the 2016 election with greater optimism.
He was addressing the Greater Accra branch of the party at the Main Hall of the Ebenezer Presbyterian Church, Osu in Accra yesterday.
It was dubbed the last major speech of Nana Akufo-Addo before travelling out of the country for a while.
According to Nana Akufo-Addo, unity amongst the rank and file of the party was an essential condition for victory in the 2016 polls.
He reminded party supporters to be mindful of the fact that within the NPP 'we have never had a party where one man speaks and the rest follows'.
He argued that 'in our party we discuss issues and respect views of minority and act on the wishes of the majority'.
He said the NPP had never been built on the cult of personalities, stressing that 'the NPP tradition believes in internal democracy'.
Nana Akufo-Addo said since 1992 the NPP had had three presidential candidates - Albert Adu Boahen, John Agyekum Kufuor and himself - and insisted that each one of them was elected by democratic means.
In equal measure, he assured the doubting Thomases within the party that come 2016, 'we will elect our leaders'.
He described those going round saying that somebody was being fosterered on the party as people who did not know the NPP tradition.
He, however, cautioned that as the party prepared to elect officers  to lead the party into the 2016 elections, they should remember that the contest must be fraternal.
According to Nana Akufo-Addo, language used must be one of solidarity, saying 'the aim is to get effective organisers to drive the party to victory in 2016. We are going to look for competency and not to tear ourselves apart'.
According to Nana Akufo-Addo, the hard contest in 2016 was with the National Democratic Congress while the NPP's internal contest must be a fraternal and sisterly contest.
In his view, no political party had a better message than the NPP.
He said the NPP message for Ghanaians was not rhetoric, but one of restoration of the National Health Insurance Scheme, quality and affordable health care and the youth equipped to face the 21st century technological and economic development.
He said the NPP message of good governance was to ensure an opportunity for free basic education to transform the national economy from the agriculture raw material-based economy to an industrial economy.
''NPP's message was one of good governance, responsible and accountable government and not looting and entrenching corruption.
'So the priority must be unity for a clearer victory in 2016 elections'', he told the charged gathering.
Nana Akufo-Addo, who was expected to leave the country last night, used the occasion to thank the teeming supporters and Ghanaians in general for working hard for the party to garner over five million votes with 123 Members of Parliament during the 2012 elections, saying, 'I thank each and everyone for the confidence reposed in me and my running mate.'
By Abdul Aziz/Daily Graphic/Ghana