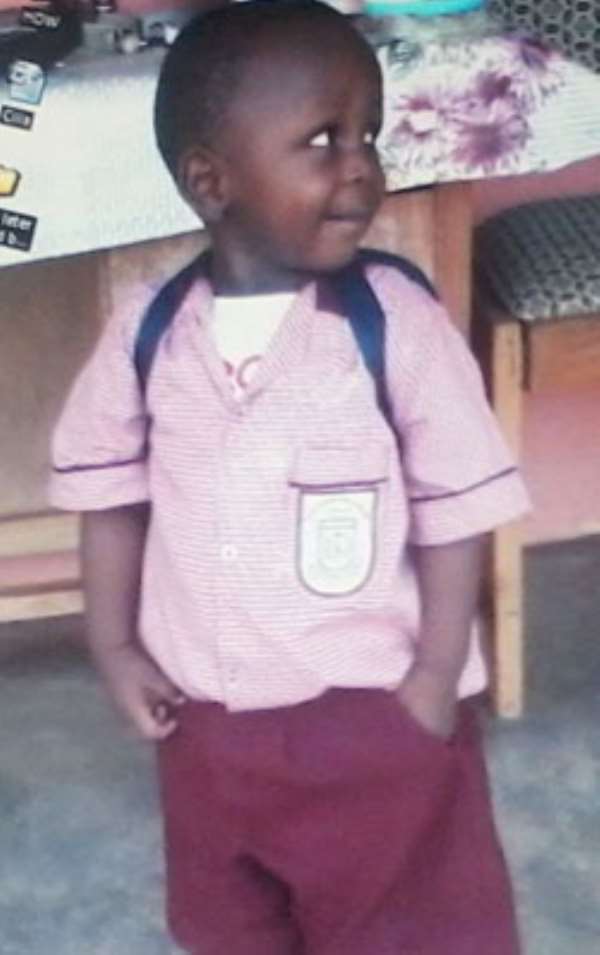 Owura Yaw Daniel, three year old orphan at the CILIA home
The Founder and Proprietress of the home, Rev Mrs Charlotte Osei Kwateng has therefore called for assistance from charitable religious organizations, corporate institutions, non-governmental organizations (NGOs), philanthropists and the general public to come to their aid.
Rev Kwateng made the appeal after a Ghanaian footballer, Kwame Afriyie Acquah who plays for Parma FC in Italy donated some food items valued at GH¢700.00 to the home.
She said their major challenge was finance. She said since the home has no financiers, expenditure has been from her own resources for more than a decade since its establishment.
According to her, payment of bills for the few workers as well as school fees of the inmates has always been a burden on her at the end of every month.
Rev Kwateng assured the public that their donation to the home would not be in vain but would go a long way to help the smooth running of the home.
She said the home has 32 inmates, the youngest being a year-old baby girl, while the eldest, an 18-year old boy who is a second year boarding student at Chiraa Senior High School (SHS) in the Sunyani West District.
The proprietress mentioned a school bus, power generation plant, construction of a kitchen, bakery, dining tables and chairs, white boards and markers, recreational ground and necessary equipment, iron rods, roofing sheets, paints, sand and nails, computers and a printer as some of their priority needs.
She expressed appreciation to Madam Ama Konadu, the footballer's mum who presented the items on behalf of her son and asked for God's blessings for him to be successful in his career.
Madam Konadu said the donation to the home was the second by her son whose philosophy is to share the little that he has with the needy, vulnerable and the poor in the society.
The items included 100 tubers of yams, 11 bags of sachet water, three boxes of top-up fruit juice, 50 kilogrammes of Americana perfumed rice, a box of Obama biscuit and 20 litres of frytol cooking oil.
From Vivianna Mensah, Sunyani