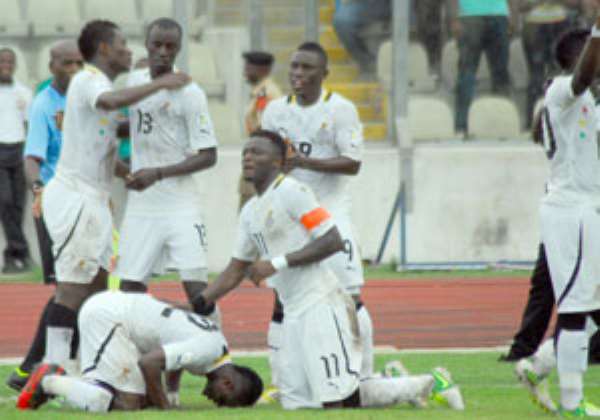 Black Stars players 
Ghana were amongst Africa's top five seeds for the final qualifying round for the 2014 World Cup alongside Tunisia, which takes the place of the disqualified Cape Verde.
The Black Stars and four other group winners from the second round qualifiers – Ivory Coast, Algeria, Nigeria and Tunisia – based on the FIFA ranking, were the seeded teams.
Tunisia qualified by virtue of Cape Verde fielding an eligible player against the North Africans in the final game of the Group B campaign.
The five seeded teams will avoid one another in the draw for Africa's third round qualifying.
The Confederation of African Football (CAF) announced the seeding on Thursday.
Ghana can draw one of Egypt, Burkina Faso, Ethiopia, Senegal or Cameroon for the two-leg ties, with the winners going to the finals in Brazil.
With the seeding revealed following Thursday's release of the FIFA World ranking, all is set for the final round draw which will take place in Cairo on 16 September to determine the pairings.
Top five seeds in Pot 1        Unseeded five in Pot 2
1. Ivory Coast                         6. Egypt
2. Ghana                                 7. Burkina Faso
3. Algeria                                8. Cameroon
4. Nigeria                               9. Senegal
5. Tunisia                               10. Ethiopia