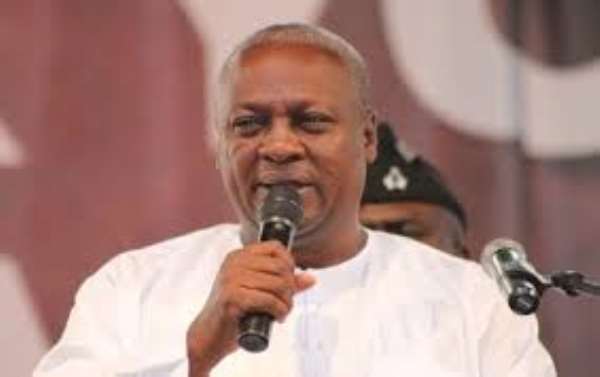 resident John Dramani Mahama on Tuesday hinted that government would soon hold a stakeholders summit on curricula building and job creation opportunities to ensure employment after school.
 
The stakeholders, he said, are made up of authorities of all Universities, Polytechnics, the curriculum development Division of the Ghana Education Service, Ghana Employers Association and Entrepreneurs.
 
President Mahama gave this hint when he addressed the youth of Benin on job creation, as part of his two-day state visit to Benin.
 
The meeting, which attracted numerous students, was to encourage them to take courses that would offer them job opportunities after school.
 
President Mahama said apart from restructuring the Ghana Youth Employment and Entrepreneurial Development Agency (GYEEDA), government would also empower the Small and Medium Entrepreneurs, since they serve as the major drivers of the national economy.
 
He said government would also strengthen the Technical and Vocational Training Institutes, as they have the potential of turning out middle level Technicians to handle some of the economic influential sectors.
 
President Mahama encouraged the people of Benin to adopt interventions such as labour intensive public works policy, where job could be created for people who have no formal education to ensure equity in the distribution of the national cake.
 
"In Ghana, jobs such as sanitation and sweeping of roads are given to elderly women, jobs that could have been given to organisations with vehicles to carry out." He said although unemployment is not peculiar to only African countries, its leaders need to work extra hard to create more jobs to commensurate for the population explosion on the continent.
 
President Mahama, who attributed the social destabilization in Northing Africa, which became known as the "Arab Spring', was as a result of these countries inability to create jobs in consonance with growing population in that region, and appealed to other African countries to develop multiple job creation opportunities.
 
"Youth unemployment is a national challenge, in view of the fact that it has caused what is now known as the Arab Spring in North African countries recently," the President added.
On integration and regional cooperation, President Mahama promised to uphold all the commitment that Ghana's first President, Dr. Kwame Nkrumah, made with Benin since independence by offering the necessary support for mutual benefit.
 
He said it was regrettable that while the free movement of people in the West African sub region was effectively working, the movement of goods and services continued to be abysmal.
 
"I have said it before, and will like to repeat that we need to stop paying lip-service to integration and walk the talk to achieve our development goals as the years roll by,' he added.
 
President Yayi Boni said his government would work closely with the government of Ghana to realize their development goals in the coming years.
 
In another development, President John Dramani Mahama on Tuesday announced that Ghana would establish synergies with neighbouring West African countries to ensure swift and safe delivery of goods and services at various ports and harbours.
 
He said although the Ghana customs network (GCNet) had reached its end, government would review the process to ensure efficient delivery of goods and services in Ghana's major entry and exit points.
 
President Mahama said this when President Thomas Yayi Boni of Benin conducted him round the port of Cotonou, as part of his two-day state visit to Benin. The visit also gave the two Presidents the opportunity to determine areas of collaboration for efficient delivery in the two countries.
 
President Mahama said the current hassles at the country's harbours were unacceptable and that the development of efficient measures would help to eliminate all kinds of criminal and other illegal activities at the ports.
 
He said the efficient management of ports and harbours could offer ample opportunities to grow the economy through effective job creation and efficient revenue generation. He added: "I think it will be useful to collaborate effectively in these areas to bring sanity and good business environment in Africa.
 
President Yayi Boni, on his part, said his administration was working around the clock to make ports and harbours an effective means of creating jobs. He said that could only be achieved through the elimination of malpractices in those areas, which his government would work hard to achieve in succeeding years. GNA