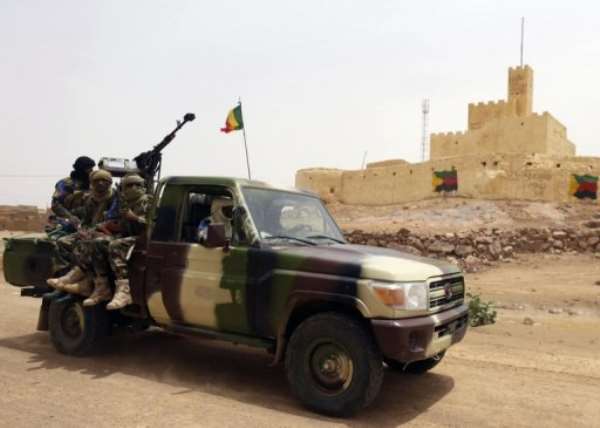 Malian soldiers patrol in Kidal on July 29, 2013. By Kenzo Tribouillard (AFP/File)
BAMAKO (AFP) - Two Malian soldiers were wounded as the army exchanged fire with "bandits" during security operations near the Mauritanian border, the military said on Thursday.
Troops had been on patrol around the market town of Lere as part of week-long "operations to secure people and property", when they encountered the gunmen on Wednesday, army spokesman Souleymane Maiga told AFP.
"There was an exchange of gunfire. Two of our soldiers were very slightly injured and we arrested a dozen armed bandits," he said, adding that the operation would continue until the end of the week.
Maiga rejected media reports that the fighters were from the National Movement for the Liberation of Azawad (MNLA), a Tuareg separatist group which has agreed to be confined to camps as part of a peace deal signed with the government.
"We were not faced with MNLA fighters, we were confronted by armed bandits who were preventing people going about their daily lives," he said.
An African military source confirmed the clash but said he was unable to identify the gunmen.
"But since the Malian army has taken prisoners, we should know soon enough," he added.
The MNLA and the authorities in Bamako reached a deal in June that allowed Malian troops to enter the rebel bastion of Kidal ahead of a nationwide presidential election eventually won by former prime minister Ibrahim Boubacar Keita.
The agreement allows for the release of fighters detained during a Tuareg uprising last year and provides for talks on autonomy for a large part of northern Mali to start between Tuareg rebels and the new administration within the next two months.
Tuareg leaders have warned that the MNLA would not hesitate to take up arms again if Keita fails to reach a negotiated solution.