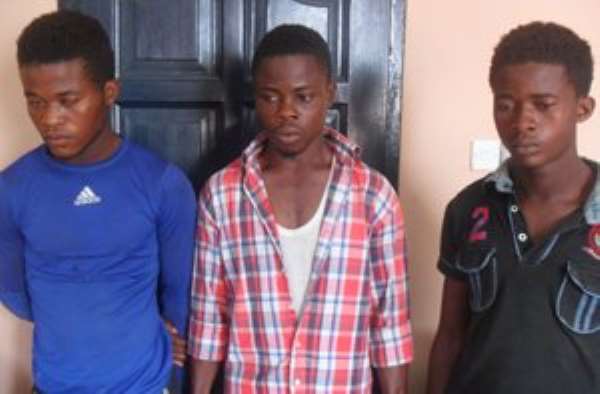 The suspected armed robbers in police custody
Three Nigerians believed to be armed robbers have been arrested by the Madina Divisional Police Command for attempting to rob another Nigerian in a robbery attack.
The suspects identified as Chima Nbimojou, 22, Chiaeoko Okeke, 22 and Uche Fidelis, 22 were arrested at Madina upon a tip off.
Suspects are in police custody assisting in investigations.
Briefing the media, ACP Boadu Pepra, the Madina Divisional Police Commander, said the complainant in the case is also a Nigerian businessman based in Ghana.
One of the suspects, Chima Nbimojou, was a former employee of the victim for more than two years before he was sacked.
Suspect Chima who claims he was not compensated by the victim went back to Nigeria to recruit Chiaeko Okeke and Uche Fidelis to rob the boss.
The three suspects therefore arrived in Ghana on Friday September 6, 2013 at noon.
Around 10:30pm, the suspects went to the victim's house at Madina and attempted to open the door.
When they realized that the doors had been properly secured, they banged at it and ordered the victim, in Igbo language, to open it but he declined.
The suspects then left the place and returned with an axe around 3:00am to attack the victim.
While they attempted to force the door open with the axe, the victim called police for assistance.
Sensing danger, the three suspects fled the scene before police arrived.
Based on a tip off last Tuesday, the three were later grabbed from their hideout.
Upon interrogation, Chiaeoko Okeke and Uche Fidelis confessed to the crime and revealed that Chima brought them from Nigeria to rob his former boss.
The axe used in the operation was later retrieved from the suspects by the police.
The three have been charged with conspiracy to commit crime, causing unlawful damage and attempted robbery and would soon be sent to court.
 By Linda Tenyah $ Ophelia Darllene Quarshie