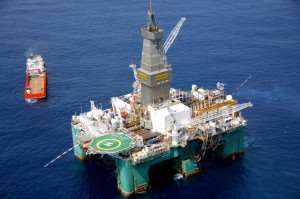 Oil production in Ghana's Jubilee Oil Field is scheduled to be suspended for a period of 21 days to allow maiden maintenance work on the floating production, storage and offloading (FPSO) Kwame Nkrumah, the floating vessel used for the production and storage of oil from the field.
The Jubilee Partners, on Tuesday, said the planned routine maintenance of the FPSO starts from Friday, 20 September 2013, and would last 21 days.
'During the 21 day period of maintenance, the FPSO will be shut down, and there will be no production."
There will be no production from the Jubilee Field during the period of the shutdown. This has been factored into the plan and forecast of production for the year. This is necessary for safety reasons, and is a normal practice under these circumstances.
This is the first planned shutdown for maintenance to be undertaken since operations of the FPSO began in late 2010.
The maintenance work will include Vessel Inspections and Cleaning, Replacement of Safety Critical Equipment, as well as Pressure Relief Valve Recertification.
This, according to the partners, was in line with their obligations for external Class Certification and adherence to global Maintenance & Integrity standards used throughout the oil & gas industry.
The Jubilee Partners say the period of the shutdown would not affect earlier projection forecasts, as it had been factored into the plan and forecast of production for the year.
Oil production at the Jubilee Field increased steadily at the beginning of the year towards the FPSO design capacity, and is currently producing at a rate of around 110,000 bpd.
"By the end of the third quarter of 2013, work on a gas handling constraint on the FPSO is expected to be completed, and Jubilee production is forecast to increase to over 120,000 bpd,"
Tullow Ghana said in its July 3, 2013 Trading and Operational Update.
History of the vessel
The US$875 million vessel arrived in Ghana on 21 June, 2010. The vessel has a width measuring about 65 metres (213 ft) and is 330 metres (1,080 ft) in length – the size of about three standard football fields put together.
The vessel, initially VLCC tanker Tohdoh, was built by Mitsui Eng. & Shipbuilding Co. Ltd. http://en.wikipedia.org/wiki/Mitsui_Engineering_and_Shipbuilding in 1991. She was owned and operated by NYK Line http://en.wikipedia.org/wiki/NYK_Line . In 2008, she was sold to MODEC http://en.wikipedia.org/wiki/Very_Large_Crude_Carrier for US$42.5 million. http://en.wikipedia.org/wiki/MODEC
MODEC renamed the ship Ohdoh, and started her conversion into an FPSO vessel. Conversion was done by SembCorp Marine at the Jurong Shipyard in Singapore http://en.wikipedia.org/wiki/SembCorp_Marine . http://en.wikipedia.org/wiki/Singapore
On 1 st May, 2010, the vessel was renamed after Ghana's first president, Dr. Kwame Nkrumah.