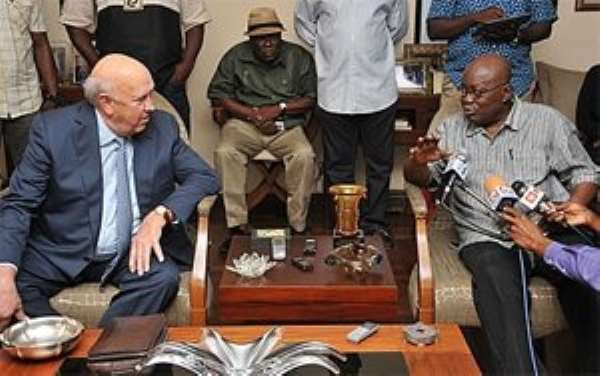 F.W. de Klerk and Nana Akufo-Addo at his residence, Nima
Former South African president F.W. de Klerk says Africa and the world is proud of Nana Akufo-Addo and Ghana for showing maturity after the Supreme Court judgment on the election petition.
He was speaking at a meeting with Nana Akufo-Addo at his Nima residence.
Joy News Elton John Brobbey reported that F.W. de Klerk commended Nana Akufo-Addo for accepting the outcome of the presidential election petition he filed with two others, even though he had reservations about the verdict.
This, he said, is an indication of Nana's respect for the court and love for peace, and charged on other African countries to learn from Ghana's comportment after the landmark ruling.
He implored the managers of the country's elections to implement the recommendations made by the justices of the Supreme Court in their ruling.
Mr de Klerk is hopeful the reforms would address the irregularities identified by the petitioners and shown in court.
The former South African president is in the country as a guest of the Institute of Economic Affairs.
Nana Akufo-Addo said he was humbled by the visit and pledged his commitment to continue educating his supporters to maintain the peace of the country.
He also emphasised that the NPP, as a party, is rooted in the rule of law and would do nothing to attack the integrity of the court, adding that what is paramount to him is the growth of the NPP and the country in general.
Meanwhile, a delegation from the Central Region paid a courtesy call on Nana Akufo-Addo and pledged their support for him if he decides to seek a third chance to lead the NPP to the 2016 presidential poll.
Source: Myjoyonline