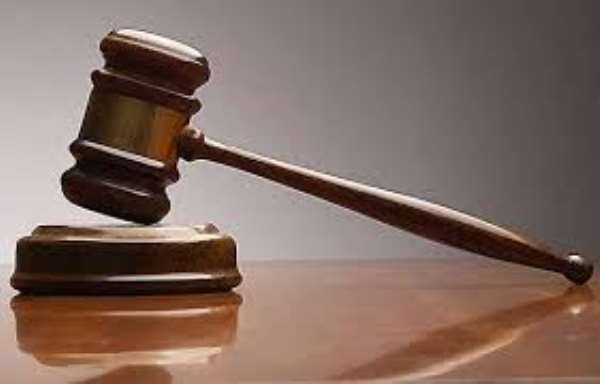 A soldier, a police officer and two others have been sentenced to a total of 120 years imprisonment in hard labour by an Accra Circuit Court.
Iddrisu Ato, the soldier, Lance Corporal Martin Agyare, the police officer, Agbeko Manah, a carpenter, and Harrison Tawiah, a driver, who were spying on the complainant, attacked him immediately he came out of the Agriculture Development Bank (ADB) Western Union branch at Achimota Mile 7.
Armed with an AK 47, the convicts were able to make away with $700. Iddrisu Ato, Lance Corporal Martin Agyare, Agbeko Manah and Harrison Tawiah, who had earlier pleaded not guilty to the charges of conspiracy to commit crime and robbery, were found guilty after the prosecution had proven its case beyond reasonable doubt.
All the convicts were sentenced to 20 years on the first count, and 30 years on the second, all to be run concurrently. According to the court, presided over by Mr. Francis Obiri, there were many bad nuts in the security services, and such persons should be smoked out and dealt with to serve as a deterrent to others.
Narrating the facts of the case, the State Attorney, Fred Kusim Awindaogo, told the court that on April 15, 2012, at about 2:30 p.m., the complainant went to withdraw an amount of $700 from the ADB Western Union branch at Achimota Mile 7.
He said after the complainant had withdrawn the money and was heading towards Achimota on his motorbike, he was intercepted by the convicts at Achimota-Neoplan, on board a KIA Rio taxi, with registration number GE 7537-11.
According to him, Lance Corporal Martin Agyare, armed with an AK 47 assault rifle, ordered the complainant to surrender the money on him at gunpoint.
'The convicts collected the money from the complainant, and thereafter, pushed him into their taxi and drove off to Tesano.
'At De-Georgia Car Garage, the convicts gave the complainant's motorbike to him, without the money,' the Prosecutor added.
State Attorney Awindaogo emphasised that the police officer, who was in uniform, asked the complainant to follow them to the police station, and bolted with the money.
'He mentioned that the complainant later made a report to the police. On May 22, 2012, with the help of [a] police informant, the convicts were arrested, when they planned to embark on another robbery,' he stated.