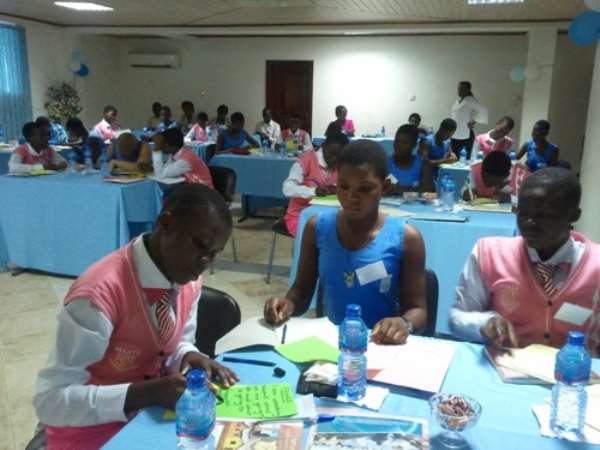 Young senior high school students between the ages of fifteen and seventeen who participated in a gender studies workshop in Accra last week, from the 2nd to 7th September, have shared their views on their newly acquired knowledge and skills in managing gender related issues.
The workshop was organized by the Gender Studies and Human Rights Documentation Centre (GSHRDC), as part of their Funding Leadership and Opportunity for Women (FLOW) project, which seeks to empower women, mainly rural ones, to take up leadership positions both at the local and national levels.
The students, who were drawn from Koase Senior High School at Wenchi in the Brong Ahafo Region, and Mpasatia Senior High School in Atwima Mponua in the Ashanti Region, revealed how important the workshop has been to them, with some of them praying the organizers to prolong the days from six to ten.
On the fourth day when Modern Ghana visited the workshop, the students were going through lessons including self-evaluation, personal empowerment, and strategies for personal empowerment.
The project officer of the GSHRDC, Ms. Esther Darko-Mensah, who was overseeing the lessons, taught that self-empowerment is increasing the spiritual, political, social, educational, gender and economic strength of individuals or the community.
She explained that for the girls to be successful as leaders, they need to be self-empowered in all aspects of their relationships with others and their education, and their ability to discover their weaknesses and working on them.
Ms. Darko-Mensah stated that education, as a means of self-empowerment is not limited to the classroom, or formal education but includes every aspect of a person's life: For example, being able to keep a home as a woman, learning how to cook, learning how to treat others well and many more.
Touching on the strategies of empowering oneself, the project officer said there was the need for self-control, the need to be positive and express optimism in all situations, and the need to remove illiteracy (being ignorant on important issues) from one's mind.
She also admonished the girls to remove laziness and poverty syndrome from their lives, and to get rid of all kinds of fear that may seem to cloud the success of their leadership.
She advised them to have objectives and goals and to make every effort to expose themselves to self-development opportunities, and to develop personal values and self-appreciation and be able to take timely decisions.
Ms. Darko-Mensah, further entreated the girls to be vigilant and try to live beyond religious, cultural and traditional dictates or practices which are harmful.
Sharing her views on how the workshop would go a long way to help the girls, Mrs. Achiaa Francisca, a House Mistress of Mpasatia Senior High School, lauded the GSHRDC for the initiative. The workshop came at the right time and the kind of education the girls, including herself, had received could not be qualified.
'We thank the GSHRDC for this education and we are grateful to them for the opportunity,' Mrs. Achiaa said.
Speaking with Modern Ghana, Miss Esther Ofori, a General Arts student from Koase SHS and a native of Kintampo, said that the workshop had served as an eye-opener for her, as she had now realized and known many things which hitherto, she didn't know.
According to her, even though she had heard and was fond of quoting the phrase 'what men can do, women can do better', she didn't know how to apply it in her daily life until the workshop offered her education on that.
'It is by chance that I am here, and I thank God so much for the opportunity given me; I won't hesitate to extend some of the knowledge I have acquired here to my colleagues who didn't get the opportunity to attend this workshop,' she disclosed.
Revealing how she was going to use the knowledge acquired to help her community, Esther noted that in her community, the highest education attained by most girls is junior high school education, and only a few of them, including herself, are able to break through to the SHS level.
And therefore with her ambition to become a lawyer, she hopes to help girls to climb higher the academic ladder and to empower women not to be solely dependent on their husbands.
Taking her turn to speak, Miss. Dorothy Adjei, a General Arts student from Mpasatia SHS in the Ashanti Region, said she had learnt that determination pays in realizing one's goal in life.
With the knowledge acquired in the six-day workshop, Dorothy would seek to fight and change the male-dominance syndrome which is currently the order of the day in her school.
She aspires to become a lawyer in the future to help fight bribery and corruption against the poor and needy, mostly women in Ghana.

2013-09-02 09.59.07

2013-09-02 09.59.31

2013-09-02 10.36.27