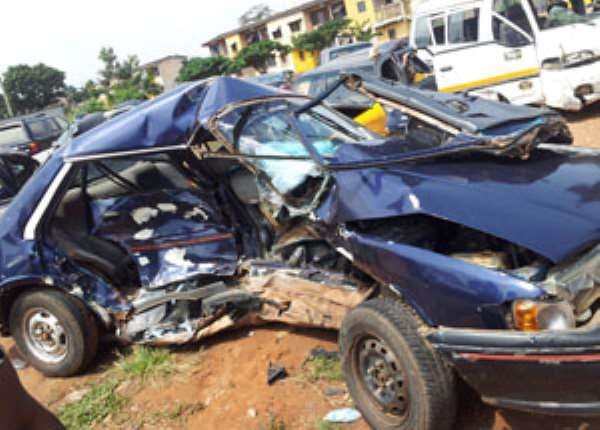 The accident vehicle
An eight-year-old boy met his untimely death on Saturday when a police officer with a white KIA Cerato vehicle ran into a KIA Capital car at the Opeibea traffic intersection.
The boy, Emmanuel Curtis, was seated in the passenger side of the KIA Capital with his father, the driver. They were moving from the AFGO lane towards Alliance Française area, when the Police Office, Lance Corporal Alexander Ameyaw in the KIA Cerato bumped into them from the Madina road towards the 37 area.
'Both the father and the boy were rushed to the 37 Military Hospital but the boy was pronounced dead on arrival,' Deputy Superintendent of Police (DSP) William Asante, Commander of the Airport Police Motto Transport and Traffic Unit (MTTU) told the Ghana News Agency on Monday.
He said Lance Corporal Ameyaw was also sent to the SSNIT Hospital at Osu in Accra.
According to him, the traffic lights at the Opeibea intersection was dysfunctional at the time of the accident and that both drivers should have exercised caution.
The mangled blue KIA Capital with blood stains all over, now at the Airport Police Station yard is damaged beyond repair. The white KIA Cerato with registration number VR 4049-12 on the other hand had its front right side bumper and bonnet also damaged.
Family members of the boy in sorrowful mood clad in mourning attire, thronged the Airport MTTU Monday morning together with the boy's father William Curtis, who had been discharged from the 37 Military Hospital, to seek justice from the Police in the matter.
DSP Asante at the station said both parties were yet to make their statements on what exactly happened. He said the police was also yet to visit the crime scene to carry out preliminary investigation.
He said after hearing their side of the issue, a docket would be prepared and sent to the Attorney General for advice since death had been recorded in the accident.
 
GNA