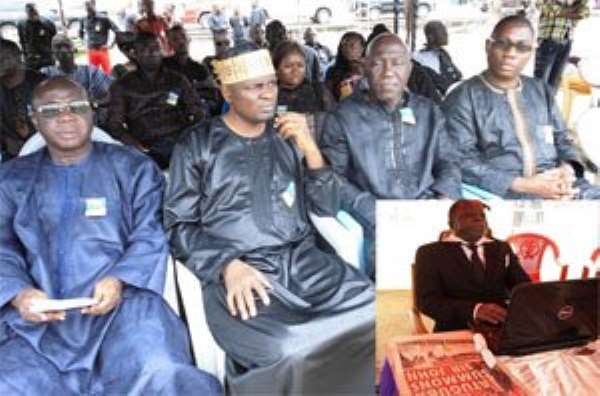 DAILY GUIDE delegation at the funeral Freddie Blay, Rashid Bawa and Fortune Alimi. INSET: The late Sam Mark Essien, laid in state
The Deputy Western Regional Minister, Alfred Ekow Gyan also known as 'Abott' was among hundreds of mourners who thronged the Kikam Victoria Park in the Ellembelle to pay their last respects to Mark Essien who died on Thursday, July 11, 2013 at the Kwesimintsim Polyclinic.
The funeral service also attracted former Western Regional Minister, now Brong Ahafo Regional Minister, Paul Evans Aidoo as well as stalwarts from all the political divides.
Also there to pay their last respects were Freddie Blay, former First Deputy Speaker of Parliament and former Member of Parliament (MP) for Ellembelle, Rashid Bawa, former Minister of Youth and Sports, Nana Kobina Nketsiah V, Omanhene of Essikado Traditional Area and Wilson Arthur, CEO of SKYY Media Group in Takoradi.
The mourners also included Muslims, Christians, Traditional authorities, professional bodies, and some foreign dignitaries.
In attendance were members of staff of Western Publications Limited, Publishers of DAILY GUIDE, NEWSONE, YOUNG BLAZERS and BUSINESS GUIDE, led by the Editor, Fortune Alimi as well as members of the Ghana Journalists' Association in the Western Region where Mr Essien was the Secretary.
The Kikam Victoria Park was swarmed with a sea of black and red as people from all walks of life paid their last respects to the man who passed way at the age of 58.
The late Mark Essien was eulogized for his generosity, kindness, loyalty, humility, camaraderie and forthrightness.
Old Students of St John's School in Sekondi, the alma mater of the deceased who were also present sang some hymns and popular songs of the school in memory of their departed colleague.
An emotion-filled Mavis Essien, daughter of the deceased who read the tribute on behalf of the mother, Hannah Essien, wept uncontrollably as she read the tribute in memory of her late father.
Tributes were also read by the staff of DAILY GUIDE, Western Regional branch of GJA, the children, extended family and old students of St John's School, 'THE SAINTS'.
Members of 'The Church, Takoradi' conducted the burial service after which the mortal remains of the late Mark Essien were taken to Asemdasuazo cemetery also in the Ellembelle district for interment.
The late Sam Mark Essien joined DAILY GUIDE in 2002 as the Western Regional correspondent.
He was later elected as the regional secretary of the GJA, a position he handled perfectly to win the accolade, 'the Dean', till his demise
He left behind a wife and four children and two grand children.
 From Emmanuel Opoku, Kikam