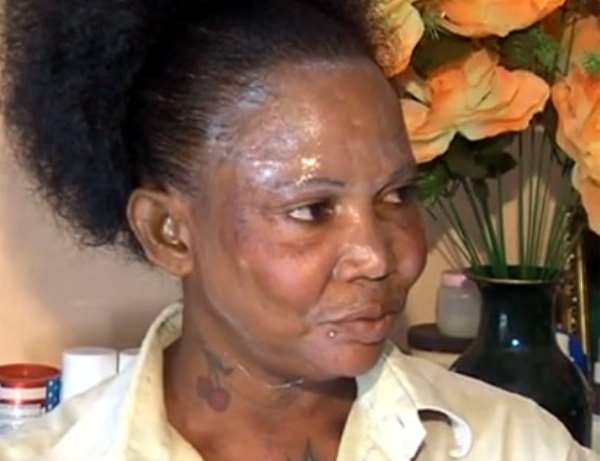 The Europeans penetration into the land of Africa did not only see the acculturation and proselytizing of Christianity and democracy but also saw the wanton looting of the rich mineral resources of Africa, slave trade, breakdown of African values, and even the portrayal of black skin as inferior.

Many Africans have for time immemorial suffered the constant abuse of being referred to as 'monkeys'. The worst culprits of such abuse are our sportsmen and women who ply their trade in Europe and other parts of the world. Many African players have in the past reduced to tears by slurs from on-field opponents and spectators. Players like Mario Balotelli, Kelvin Prince Boateng, Samuel Eto, Julio Cesar, Sule Muntari and many others have had their fair share of this racist taunts.
Owing to the constant racial discrimination that many Africa are often subjected to, there has been a mad-rush by many Africans to look just like the white. Many Africans therefore apply toxic creams that bleach their skins. This craze for a lighter skin is dangerously recording an alarming proportion of which African women are the worst culprits.
According to the 2005 Ghana Health service report, approximately 30% of Ghanaian women and 5% of Ghanaian men were actively bleaching. This statistic has shot-up, and currently 50%- 60% of adult Ghanaian women are currently or have at one time or the other actively used bleaching agents.
The World Health Organization defines bleaching as the intentional alteration of one's natural skin colour to one relatively if not substantially, lighter in colour, through the use of chemical skin lighting agents, either manufactured, homemade, or the combination of the two.
There has been proliferation of wide array of bleaching products or creams on our Ghanaian market bearing names such as skin toners, carrot light, skin light, lightening shampoo and other steroid soaps with enticing advertisement featuring celebrities with the aim of attracting gullible Ghanaian women. Many Ghanaians patronize these creams oblivious of their harmful effects.
The greatest victim of skin bleaching was the late Pop star, Michael Jackson who met his premature and untimely death. Reports indicated that the Pop star had the upper layer of his skin peeled off, destroying his skin ability to produce menalin that protects the skin against ultra-violent rays and exposes the skin to blood cancer such as leukemia and cancer of the liver and kidney.
Ghanaian boxer Percy Oblitei Commey also suffered the same fate when he lost his national super-featherweight belt to his challenger Smith Odoom in 2001. International report indicated the boxer suffered several punches on his face, opening deep cut on his right cheek, and his nostril bleeding with blood because his skin was too light due to excessive bleaching.
It is not uncommon to see many Ghanaian women including some men who have lost their natural skin colour and have exposed their bodies to deformities such as burnt skin, wrinkles, skin blemishes, damaged skin and red spots on skin which is normally referred in our local parlance as 'Nanso Obaa yi'.
The devastating effect of skin bleaching leaves a lot to be desired and ought to be abhorred rather than encouraged in our Ghanaian society.
Besides the fact that bleaching is an endorsement of self-hatred and mental slavery, most bleaching products and creams contain a toxic chemical ingredient called hydroquinone. Hydroquinone is one of the worst ingredients used in personal care products, and may disproportionately affect the colour of the user. This product has been banned in the United States and United Kingdom.
Reasons why people bleach their skins may be informed by several factors.
Cultural influence precipitated by colonial mentality of beauty as determined by Europeans is a major factor. The Europeans through their incessant racial abuse has informed many African people that black skin is inferior. The Europeans through beauty pageants, fashion, modeling, TV, Magazines etc were able to promote whiteness as the benchmark of beauty, something many Africans are blindly copying today.
Many other African women bleach their skin because of marriage marketability. Many African men are turned on by fair women and therefore many women would prefer to bleach their skin to entice men. The Akan expression, 'If a fair skinned lady lies on bed and there are light-outs, the room brightens' has erroneously gotten into the heads of many African women.
I doffed my hat to TV3on Monday 2nd September, 2013 for discussing extensively the dangerous effects of skin bleaching in their maiden edition of the rebranded morning show 'Newday'. Government must intensify efforts to educate the public on the dangerous effects of this practice and also pass a bill that would ban hydroquinone-based products that are dumped into our Ghanaian market today.
Beauty is not defined by only outer looks but the entirety of one's personality and therefore light skin cannot set the benchmark for beauty.
Black is beautiful and until we begin to reason like Africans and take pride in ourselves, we would continue to remain mentally imprisoned by this imperialist tactics.
Editor's Note:
Writer: Abdul-Karim Mohammed A.
B.A Communication Studies [level300]
University of Cape-Coast.
Email: [email protected]
Blog: Abdulkarimmohammedawaf.blogspot