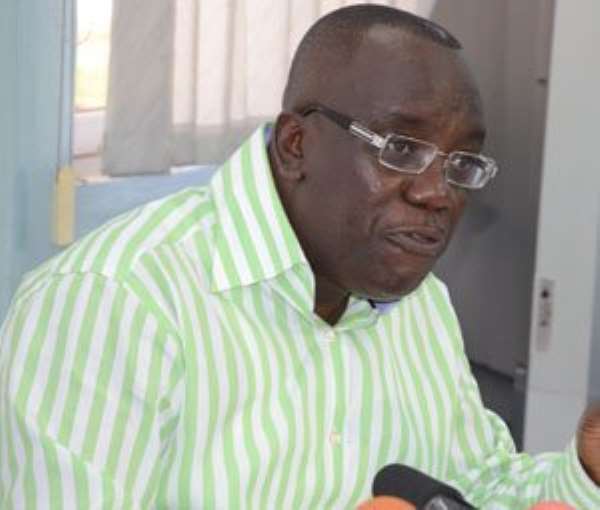 Kwadwo Owusu Afriyie aka Sir John
He said he had performed his duties as the NPP General Secretary perfectly therefore, he was expecting the party's delegates to show appreciation by endorsing him when the NPP goes to polls to elect its National Executives in March 2014.
Virtually launching his campaign for the enviable position in the NPP, Mr Owusu Afriyie aka 'Sir John' told Kwadwo Marfo of Kapital Radio in a chat that 'I am contesting for the NPP General Secretary again.'
According to him, everybody, notably the NPP faithfuls, have witnessed the good things that he had done to move the NPP forward during his tenure as the party's General Secretary.
Sir John said he would soon launch his campaign and surely his candidature would be widely sanctioned by the party's delegates whom he described as the 'king makers' of the party.
The NPP General Secretary disclosed that the party would soon go to the polls to elect its polling station, constituency and regional executives, hopefully before the end of the year, to steer the affairs of the largest opposition political party.
Sir John said the much-talked-about NPP polls to elect its National Executives could take place latest by March next year, stressing that he was hoping to retain his seat during the polls.
Still sounding confident, the NPP General Secretary noted that he had meticulously delivered all his campaign promises to the party whilst contesting for the chief scribe in the NPP.
According to him, it was high time that the NPP delegates honoured him for good works done to the party by endorsing his candidature to enable him to continue his good works for the party.
Touching on the verdict of the Supreme Court which saw the nine justices ruling in favour of the respondents thereby retaining John Mahama as President, he said the NPP had accepted the results in good faith.
According to him, the NPP was setting its eyes set on the 2016 National Election to elect Ghana's next president and parliamentarians from the various constituencies, which is just around the corner.
He described the party's failed attempt to get the Supreme Court to annul the results of the 2012 presidential elections, as a slight set back, stressing that the NPP still believes that the battle is the Lord's.
Still on the election petition, he chastised NDCs top lawyer, Tsastu Tsikata for allegedly launching a verbal assault at Justice Anin Yeboah, one of the nine justices of the Supreme Court that sat on the case.
He charged the populace to descend heavily on Mr Tsastu Tsikata over his loose talk, stating that the NDC lawyer's comment about the Justice Anin Yeboah was reckless and irresponsible.
 FROM I.F. Joe Awuah Jnr., Kumasi