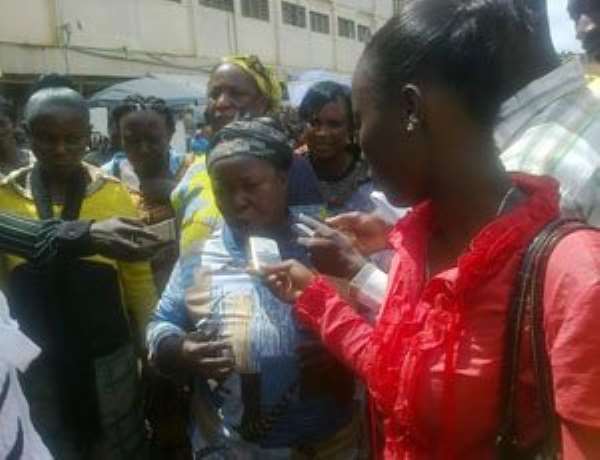 Market Women in Kumasi
According to them, Nana Akufo-Addo still remains the suitable person in the largest opposition political party who can lead the party to victory in the next presidential elections.
The market women therefore cautioned that any attempt to replace Nana Akufo-Addo with another person to face the NDC's President Mahama in the 2016 polls would not augur well for the NPP.
They were of the strongest conviction that Nana Akufo-Addo is popular across the country after leading the NPP in successive election, so he could easily win the presidential seat for the NPP in 2016.
This came to light when the Free Education Now Prayer Group (FENPG) members led by Andy Owusu, National Coordinator of the group, stormed the various markets in Kumasi on Monday.
Numbering over 100 people including Junior High School graduates that could not get enrolled at the Senior High Schools due to cash, the FENGP members were at the market to thank the traders.
The FENPG believed the unflinching support and prayers of the market women helped the petitioners during the election petition at the Supreme Court, hence the need for them to express their appreciation.
But the market women temporarily used the occasion to campaign rigorously for Nana Akufo-Addo to be maintained as the NPP's presidential candidate for the next elections.
They insisted that the NPP should allow Nana Akufo-Addo to contest the polls as the presidential candidate unopposed, noting that there would be no need for the party to waste money to organize a primary.
The market women said the party's coffers was not anything good to write home about after some years in opposition, so the NPP should reserve the money that could have been used in organizing primary to finance the party's campaign for 2016.
According to them, Nana Akufo-Addo had displayed that indeed he is a man of peace due to the manner in which he accepted the Supreme Court's verdict of the election petition.
They said again that Nana Akufo-Addo when eventually elected as president in 2016, could implement policies to better the lives of the masses and also make education accessible to all and sundry.
In a brief chat with DAILY GUIDE, Andy Owusu of the FENPG said he was utterly stunned at the level of support that Nana Akufo-Addo is still commanding from the market women in Kumasi.
The FENPG members visited the various markets in the city including the Kumasi Central Market.
 FROM I.F. Joe Awuah Jnr., Kumasi