5 September 2013
|
Opinion/Feature
Analysing WACAM's 15 Years Of Community Struggle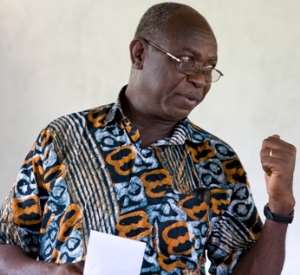 The age of Wacam is determined by its landmarks. The actual mobilisation and the formation of the Wassa Association of Communities Affected by Mining (WACAM) started in the early 1990s. The 5th of September 1998 marked a major landmark in the history of WACAM when the organisation was launched at the Fiase Cinema Hall in Tarkwa.
The launching was attended by many people from 17 mining communities from the Wassa West District, Chiefs, Journalists from 5 media houses, NGO representatives from Third World Network (TWN), Centre for Public Interest Law (CEPIL), Friends of the Earth, FIAN and representatives of two mining companies.
The vision of the founding members of Wacam was to build a new organisation of mining communities and their allies as a platform to raise national awareness on mining issues for the protection of community rights as well as influence national policy on mining. Dr Janet Fishlock, an expatriate staff then working with Goldfields Ghana Limited on the resettlement of the Atuabo and Akontanse communities attended the launching ceremony. She commented to one of the community people from Atuabo who was a strong WACAM activist that the WACAM initiative of mobilising community people to protect their rights was a good one but it was too late.
We may have reason to suspect the genuineness of Janet Fishlock's comments but her view on the launching of WACAM serves as a benchmark in assessing our modest achievements. So fifteen years after the official launching of WACAM, we have to revisit the statement of Janet Fishlock to find out whether WACAM's efforts have been futile or too late.
Brief History
WACAM was born out of community struggles. The onset of the third gold rush (3rd Jungle boom) which started from the early 80s and has continued to date resulted in the establishment of about eight surface mining operations in the then Wassa West District. Gold mining in the Tarkwa area was underground mining controlled by the State Gold Mining Corporation (SGMC). Although deep shaft mining has its own problems, it did not create serious land use conflicts because it allowed mining to go on deep in the belly of the earth without seriously destroying other important land based activities like agriculture and human settlements.
The technological change from underground mining to surface mining and the use of cyanide in the heap leach method of gold extraction, changed the mining sector drastically which unleashed myriad of problems including but not limited to cyanide spillages, loss of livelihood, water and air pollution, mining related health problems, resettlement and relocation, youth unemployment, environmental degradation, human rights abuses, noise pollution, distortions in socio-cultural settings and low compensation.
These problems were enough to cause social disruption and upheavals in mining communities. Poor mining communities came under attacks from combined state and company securities. Some mining communities live with the scars of gross human rights abuses, social and environmental problems that had been documented by institutions including the Commission on Human Rights and Administrative Justice (CHRAJ) in 2008.
Popular mobilisation of the vulnerable mining communities around the critical issues became the only option to seek local and national attention to solve the problems of the mining communities in the Wassa West District and we redirected our focus on community mobilisation. Realising the conflict of interest and the difficulty of fighting state policy of promoting surface mining as public servants, we had to quit the public service in order to have the independence to continue the community mobilisation. That marked the beginning of our community mobilisation efforts around 1993 and by 1996, we had been able to mobilise some communities including Atuabo and Akontanse and other smaller communities which involved the resettlement of about 30,000 people by Goldfields Ghana Limited from their original settlements to New Atuabo near Tarkwa.
We were members of a nationalist organisation of intellectuals and workers who showed great interest in the mining advocacy. The mining issue was discussed at our meetings and we benefitted greatly from the support of the group. The history of Wacam cannot be complete without mentioning the efforts of people like the late Ibrahim Issahaku, Baba Umaru Tsalhatu, Professor Ralph K. Asabere, Daniel Amoah and Ralph Agbalenyo in providing great support to our initial work.
It was this group that suggested that we bring together the affected communities to a Christmas party in 1996 to tell their story to a number of guests at the party as a way of raising funds to support the work of WACAM. We were able to raise an amount of sixty three thousand Cedis (63,000) which is less than seven Ghana Cedis (GHC 7) today to support WACAM's work. That amount was the first external funds we received to support WACAM's activities in the early period of community mobilisation and organisational work. The mobilisation of communities created a core of activists including Peter Yeboah (Rashid), Ahmed Pelpuo, J.A. Osei, Mr Gavor, Sophia Ayensu, Agnes Ackon, Mathew Quacoe, Kwasi Aduakwah and Kwadwo Amponsah, who made tremendous sacrifice to lay a strong foundation for the development of WACAM.
WACAM's work
We realised that the mining lobby was a powerful one and we could only be efficient in holding the mining companies in check if we built a mass movement of mining communities, media, intellectuals, NGOs, Faith-based organisations and organised labour.
Being a premier mining advocacy organisation in Ghana, we did not have mining advocacy experiences to learn from and we had to learn the basics of mining advocacy from our own experience. We learnt the rudiments of mining in special classes organised for us by a Volunteer who was a mining expert and shared the experiences gained as much as possible. We believed in the power of knowledge and made rights education a pillar of our work. We organised regular workshops for our activists on varied topics including the Minerals and Mining Act, the Public Order Act, Leadership skills, Negotiations, Mining and development, compensation and human rights. CEPIL and CLARCS provided paralegal training to our members.
We realised the importance of the media in our work and developed a media strategy for our work which included media sensitisation of the mining issues.
Women in mining communities face mining effects in a special way due to their traditional roles. Our women activists are consistent, brave and are able to communicate the community problems in a more passionate and strong manner that their male counterparts. Our special focus on women activists developed into a strong women's section which has become a driving force of our advocacy work. We cannot talk about the role of our women activists in the strengthening of Wacam without paying glowing tribute to the sacrifice of some of our strong women activists including the Late Emelia Amoateng, Agnes Ackon, Sophia Ayensu, Hon. Joana Manu, Hon. Afua Sarpong, Mary Margaret Eshun, Philomena Addo, Victoria Biney, Florence Ayeh and Mary Amo.
WACAM's achievements
The increase in the gold price led to the proliferation of mining operations in many parts of Ghana and many communities across the country made requests for the expansion of our work to their communities. At the time of the launching of WACAM on 5th September 1998, we were working with 17 communities in the Wassa area. Currently WACAM is working in over 100 mining communities in Ashanti, Brong Ahafo, Western, and Eastern Regions of Ghana. We have a programme under IBIS where we are sharing our mining advocacy experience with NGOs and mining communities in the three Northern Regions of Ghana. Conservatively, Wacam has trained more than 2,000 activists including community activists, NGOs, students, Trade Unionists, Faith-based organisations among others. We have reached out to thousands of community people.
Through our collaboration with Oxfam America, WACAM worked with NGOs and mining communities in Mali and Senegal. Our work in the West African sub-region contributed to the development of the ECOWAS Directive on the Harmonisation of Guidelines and Policies in the mining sector.
We changed our name from Wassa Association of Communities Affected by Mining (WACAM) to Wacam in 2009 to reflect our expansion and to open up the membership of Wacam to broad sections of Ghanaians who do not live in mining communities in line with our vision of becoming a national social movement endowed with human and financial resources to protect community rights and our natural wealth. Again, the new name reflect the meaning attributed to Nana Enimil Kuma, the Chief of Huni Valley who stated in his remarks as the chairman of the official launching of WACAM that, 'Though WACAM is an English abbreviation, if you add an 'E' it will be 'WACAME', which means, 'you have bitten me'.
Wacam has made a modest contribution to the raising of community and national awareness on mining issues. Our community activists have been so empowered through the rights education to the extent that they can quote from the national constitution and the Minerals and Mining Act to support the protection of their rights. Wacam has developed overtime into an organisation which is a blend of peasants, workers and intellectuals with the needed synergy to challenge corporate impunity. We have shared our mining advocacy experience with many NGOs, Community Groups, Faith-based organisations, Research institutions, Academia, students, Journalists and state institutions. Wacam has played its watch-dog role over mining companies and regulatory institutions to the extent that the love-hate relationship between us has grown into a relationship of mutual respect.
Through the Victims' Support programmes, Wacam has been able to provide support for the education and health needs of victims of gross human rights violations from mining companies and state security. Wacam has given birth to a number of organisations and we are proud about that.
These and many of Wacam's achievements are collectively owned. The achievements of Wacam have been made possible by the sacrifice of many of our activists, media houses, Journalists, sympathisers, partners, NGOs, Religious groups, organised labour and individuals.
We look forward to the coming years with a lot of hope in the strengthening of networking among our community groups and organisations with similar objectives, improvement of engagement with state institutions, economic empowerment of mining communities through our Sustainable Livelihood Network (SULNET) programmes and promotion of the Free Prior and Informed Consent (FPIC) principle. Wacam wishes to renew its commitment to the protection of the rights of marginalised mining communities and the environment.
Wacam owes many organisations and individuals tons of gratitude. We are grateful to organisations such as Oxfam America, DKA-Austria, Earthworks, Bread for the World, OSIWA, TWN, KASA, IBIS, CEPIL, STAR-Ghana, FIAN, CARE Ghana, RAVI, Trades Union Congress-Ghana and all media houses in Ghana for supporting us to survive in the difficult mining advocacy terrain.
The gratitude of Wacam to our numerous supporters is amply expressed in the words of Isaac Newton that, 'If I have seen farther than others, it is because I was standing on the shoulders of giants'.
The writers are Daniel Owusu-Koranteng, the General Secretary of the Maritime and Dockworkers' Union /Executive Director of Wacam and Hannah Owusu-Koranteng, the Associate Executive Director of Wacam. [email protected]
Editor's Note:
The writers are Daniel Owusu-Koranteng, the General Secretary of the Maritime and Dockworkers' Union /Executive Director of Wacam and Hannah Owusu-Koranteng, the Associate Executive Director of Wacam. [email protected]